One of Nashville's power couple Tim McGraw and Faith Hill has been tremendously blessed with not just beautiful but also talented daughters. Their youngest, Audrey McGraw, has been stirring curiosity online because of the fan-snapped videos of her singing.
First was an Instagram video (also posted on YouTube) of the then 12-year-old Audrey Caroline McGraw singing Dixie Chick's song, "Travellin' Soldier." Proud dad Tim McGraw could also be seen peeking from behind a curtain, happily watching her daughter own the stage like a professional entertainer.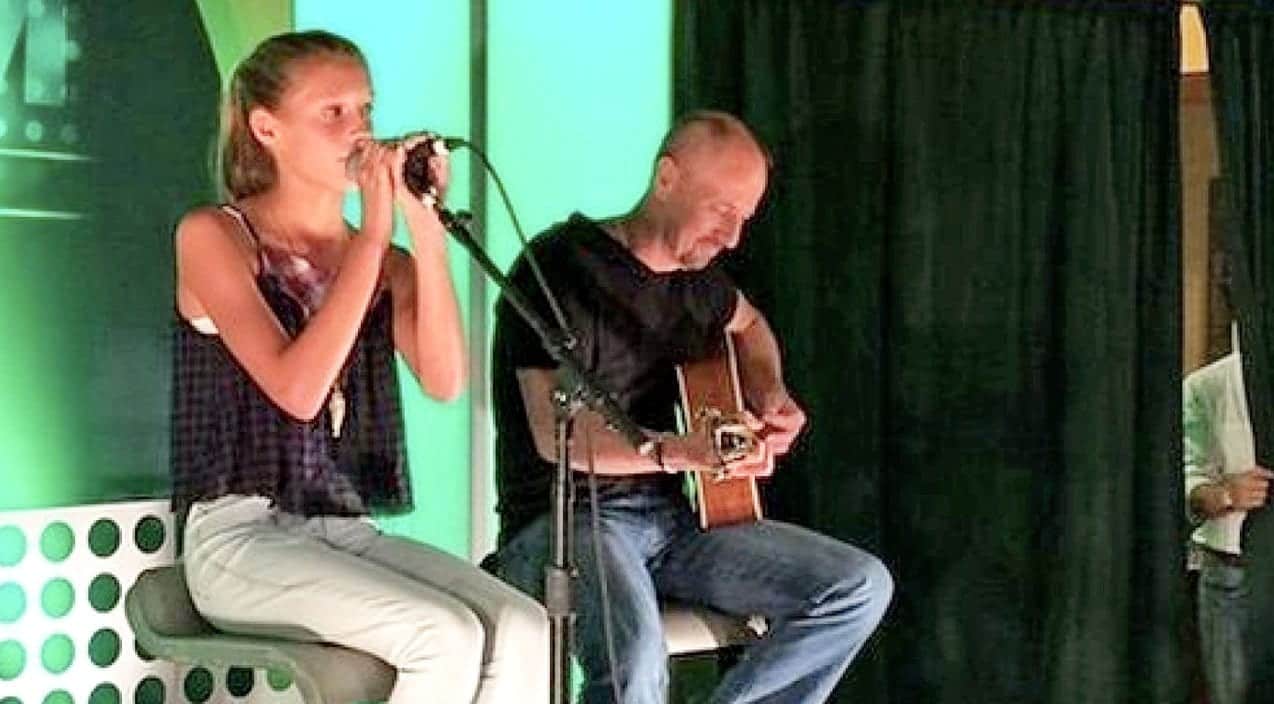 This happened at the Heaven Town Lounge of Walmart Arkansas Music Pavilion. She chose a Dixie Chicks' song as opener for her dad's stage show. But before she could get to the stage, Tim McGraw planted a kiss on her forehead and proudly introduced her to the crowd.
Following her impressive debut performance, Audrey took again the stage at the Gexa Energy Pavilion in Dallas. She's 13 during this performance. Still backed by two acoustic guitarists and singing the same song, there's no mistaking that she has a natural knack in singing which isn't surprising. She's Tim McGraw and Faith Hill's daughter after all.
Audrey McGraw Asked For It
On a flight to Rogers, Arkansas, Tim McGraw was surprised when Audrey told him that she wanted to perform onstage. He's confident, of course, with his daughter's singing ability, but stage fright can happen to anyone. But as a supportive dad, he consented to Audrey's request.
The night of the show, Mc Graw has prepared himself to hear Audrey retract her wish to sing in front of a crowd. She also did not have much time to practice the song before showtime. Nonetheless, Audrey confidently walked up the stage and nailed "Travellin' Soldier" like a true country star.
The "Humble and Kind" singer could not be more pleased to be proven wrong.
"The funniest thing to me about it was, she got up there and she sang and she didn't show a bit of nerves, she just sang the song and then she didn't acknowledge the crowd or anything. She just sang her song, got up and walked off. Like, that's the way to do it. That's the way to handle it."
Given her initiative to perform in public, it looks like Audrey will soon follow in her parents' footsteps. She's got a good grip with her voice's tones and it's obvious that her vocal range will suit any song she'll choose in the future.
Spectacular Voices Naturally Flows in the Family
Besides Audrey, her older sisters, Gracie McGraw and Maggie Elizabeth are also amazing singers. In fact, second daughter Maggie Elizabeth McGraw enticed a crowd with "I Put A Spell on You" during one of her parents' Ontario tours.
While Maggie looks a lot like Faith Hill, here's Gracie McGraw who seems to be every bit more like her dad in this duet.
Guess we'll also hear more about these McGraw sisters in the near future!
Not Fans of Their Parents' Music
While majority of famous singers' kids would choose to cover one or several of their parents' hits, Tim McGraw and Faith Hill's daughters are different.
McGraw said that his daughters are huge One Direction's fans instead of their dad's. While McGraw's songs are played nationwide, his daughters' iPods and music players are filled with the British boy band's hits.
That may sound like an 'ouch' to a hitmaker dad like Tim McGraw, but he's a good sport. He gives his daughters liberty to explore their social circles and to be independent. Consequently, he's not seen much around his daughters. Besides, McGraw's celebrity life keep him busy with tours and flights.
Nonetheless, the McGraw family has an established family time which always sends them back home. You've done a great job at parenting Tim Graw and Faith Hill!
---
audrey mcgraw, faith hill, tim mcgraw
---