Yellowstone's Season 4 just ended with an action-packed finale, but fans (like us!) are still not over the hype.
FIRST, the ending was just so banging good (if you know, you know). And while there's no official fifth installment announcement just yet, it's a no-brainer that Paramount's hit series will be back for another season. Rip said so, and we're counting on that. SECOND, its new prequel series '1883' which brought Yellowstone back to its roots in the Wild West, just launched last December and is still well underway. The 10-episode prequel will end on February 20, and if we're lucky, it'll get renewed for a second season.
RELATED: Where Is Yellowstone Filmed? Everything You Need To Know About The Series
But as the series' universe expands, there's also quite the confusion in all of this for some fans. We all know that 'Yellowstone' follows the Dutton family and '1883' does too but separated in time. So how do they exactly connect? Don't worry, we got you all covered. We mapped the entire Dutton family tree for this very reason.
Be warned: Spoilers ahead!
Recap (Yellowstone Seasons 1-3)
The series, a reimagination of the classic western genre in a contemporary setting, follows the fictional Dutton family who fights tooth and nail against enemies on every side as they hold onto their titular Yellowstone ranch in Montana, which is their home and family legacy. And as the story progresses, we are immersed into the lives of the Dutton themselves, the complexities of each character, the connections, and the rivalries between and among them.
RELATED: The Yellowstone Soundtrack: The Complete List
This generation of Duttons is headed by John Dutton, played by Hollywood legend Kevin Costner. He is the franchise's lead star and the family's patriarch, and he fathered three children – Lee (Dave Annable), Beth (Kelly Reilly), Jamie (Wes Bentley), and Kayce (Luke Grimes) – with his wife Evelyn (Gretchen Mol) who died after falling off a horse when the kids were still young. But aside from these four, John also extends a fatherly figure to his ranch's foreman Rip Wheeler (Cole Hauser).
Lee is John's favorite and considered his most loyal progeny. But early in the first season, after a confrontation with the Broken Rock Police over a cattle theft, Lee was killed. Though, unlike Lee, Kayce was the first outcast of the family. He left the Yellowstone Ranch after seeing his father's cruelty and found love with the teacher and professor Monica Long (Kelsey Asbille). The couple settled on the Broken Rock Reservation with their son Tate (Brecken Merill). But after Lee was killed, Kayce avenged him and relocated to Yellowstone in Season 2, where he then served as his father's top lieutenant.
Beth, on the other hand, was not raised to be a cowboy or a ranch hand like her brothers. With her smart and cunning personality, she grew up to be a corporate raider, and none could equal her loyalty to her family even though loyalty cost her a heavy price. She is now married to Rip Wheeler – which makes Rip officially part of the family – but they are unable to have children.
And lastly, there's Jamie. He lived a wrangler lifestyle and eventually went into law which was a plan seemingly pushed by John Dutton. But being far away from the ranch led him to his own path. And when he helped his older sister Beth get an abortion and then burned his relationship with her, he became the family pariah. He then became romantically linked with his campaign staffer Christina (Katherine Cunningham), but their relationship turned sour. Then in the latter half of the third season, it was revealed that Jamie was actually not a Dutton at all. He was a Randall, son of Garrett, who has served decades in prison for murdering his wife.
Now Watching: Season 4
In season 4, there were two additions to the Dutton family though not by blood.
The first one was Carter (Fin Little), whom Beth adopted after the youth's father overdosed in the hospital. At first, Carter tried to take advantage of Beth, and he wound up sleeping in the barn and shoveling horse manure. But things got better, and now he sleeps in the main house, and even John Dutton dotes on him.
Second is Jamie's son with Christina. She was pregnant with their kid before she left him, but he never told him until she showed up in front of him two seasons later. As of now, it's still unclear which surname the child carries, but he is certainly a Dutton by blood.
Where does '1883' fit in the timeline?
Trigger Warning: Mention of suicide
'1883', as the title suggests, takes us back to the start of the Dutton dynasty, and it is centered on the bloody history of the family as they conquer the lawless and glorious Wild West and create their legacy.
The lead of the pack is James Dutton (Tim McGraw), who also appeared on the first episode of Yellowstone's Season 4. Right away at the '1883' pilot episode, we see the semblance between James' character with John's. They had the same reckless brutality except for the murderous part, and both are the patriarchs of their family. But how are they exactly related?
Well, long before John Dutton III, there was his great-grandfather James Dutton.
James Dutton was married to Margaret Dutton (Faith Hill), who also appeared with him on the first episode of Yellowstone's season 4 and consequently on the seventh episode before the launch of '1883'. As the story went, they had two children – Elsa (Isabel May) and John (Audie Rick in '1883' and Jack Michael Doke in 'Yellowstone' flashback sequence) – and they will eventually be joined by another brother Spencer (based on a flashback in the Yellowstone series). Then John will have a son named John Dutton II (Dabney Coleman), who will be the father of John Dutton III (Costner).
We are also introduced to James' uptight sister Claire (Dawn Olivieri), who had little respect for her brother's reckless ways and even less for her sister-in-law's parenting. She has a husband named Henry and a daughter named Mary Abel (Emma Malouff), who just like her, looked down at the rest of the Dutton family and was particularly critical of Elsa's unladylike behavior. But after Henry died, Claire and her daughter voyaged north as they had been left with no choice. During the trip, Claire antagonized a group of bandits which led to Mary Abel's death, and in her distraught, she ended her own life.
If you or anyone you know is having suicidal thoughts, please call the National Suicide Prevention Lifeline​ at​ 1-800-273-TALK (8255)​
As '1883' goes on, we will see more of the Duttons and probably more characters that will shed light on how the John Dutton of modern-day Yellowstone was born and created.
But for now, with the existing characters yet, here's an easy-to-understand mapped Dutton family Tree for you.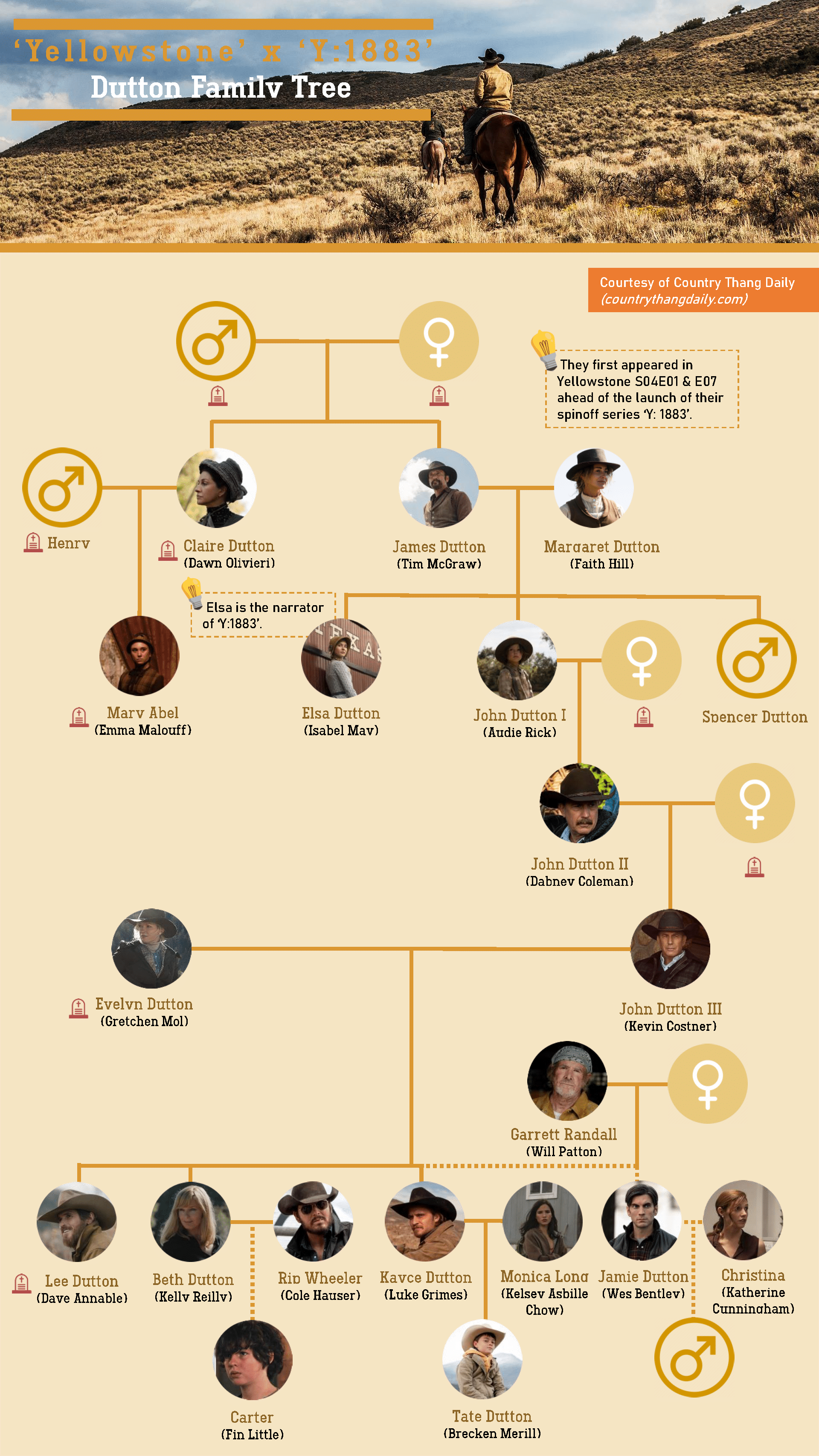 ---
---