Loretta Lynn has always valued straightforwardness and honesty in everything she did – from simple conversations down to her songwriting. If things needed to be said, she would do so without any worry about people having an opinion about it. Because, as she said time and again, she was only speaking and writing about what was going on with her and with her life. And that's why, over the decades of her career, Loretta Lynn has earned herself quite a collection of her witty, inspiring quips.
Here are 23 of our favorite Loretta Lynn quotes.
Loretta about life and family
1. "The main thing about this life is love."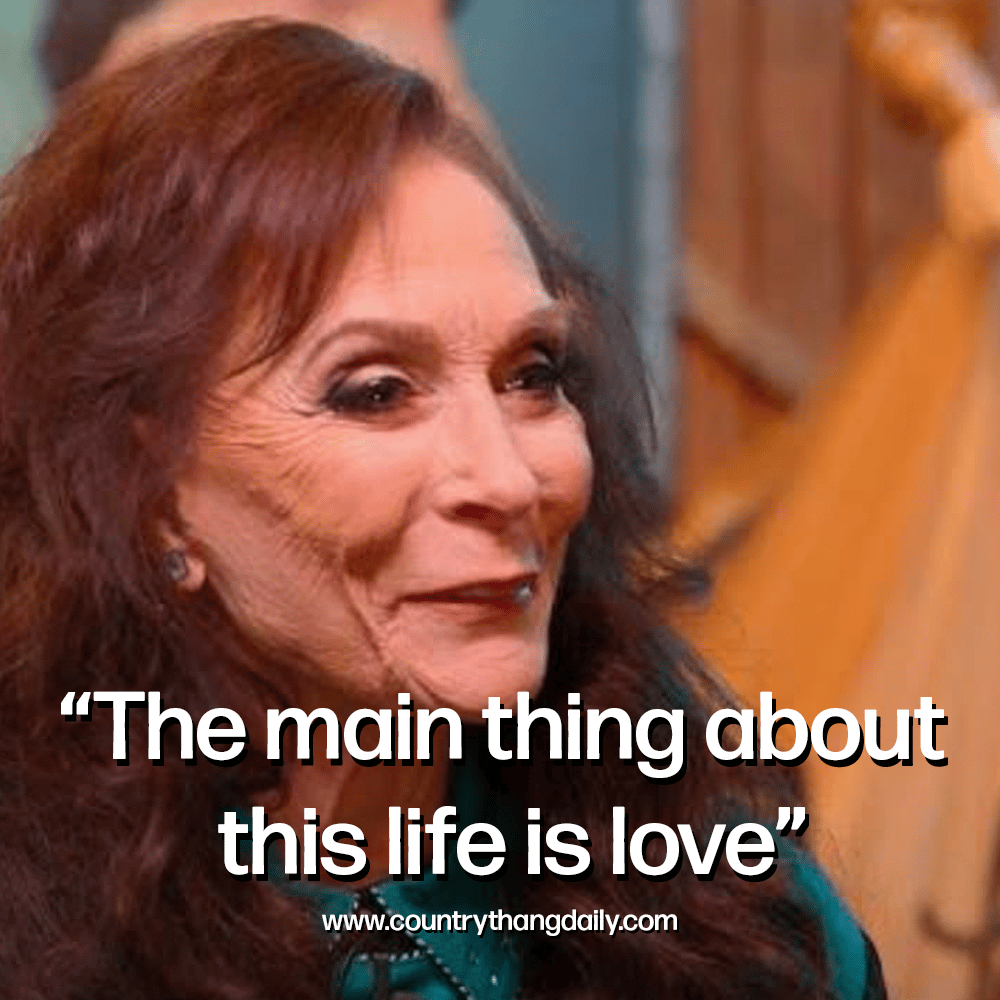 2. "It's really rough, but there are two things that never change — love and the No. 1 best-seller book, and that's the Bible." – (San Diego Union Interview, 1987)
3. "Every day when you're young and you're growing up with your kids, that's a great life. Even though you don't have anything hardly, it's a great life to be with your kids, and every woman oughtta be with her kids." – (Time Out, 2011)
4. "As long as you dwell on the bad, it's taking the life away from you that you need to be living." – (People, 2017)
Loretta on her "rocky" relationship with her sister
5. "Crystal and I are sisters, and love runs thicker than water, and I think people are the ones that put the thoughts in other people's heads. It was then my head or hers, either one."
Loretta on making music
6. "Don't come at me while I'm writing a song because I'm not myself. I'm the person that I'm writing about. You got to do that. You got to be the person to write it."
7. "You got to know what you're doing, and you got to work hard. You can't put a record out and just say, 'I'm a star,' and that's it. 'Cuz that ain't gonna make it." – (News Tribune, 2009)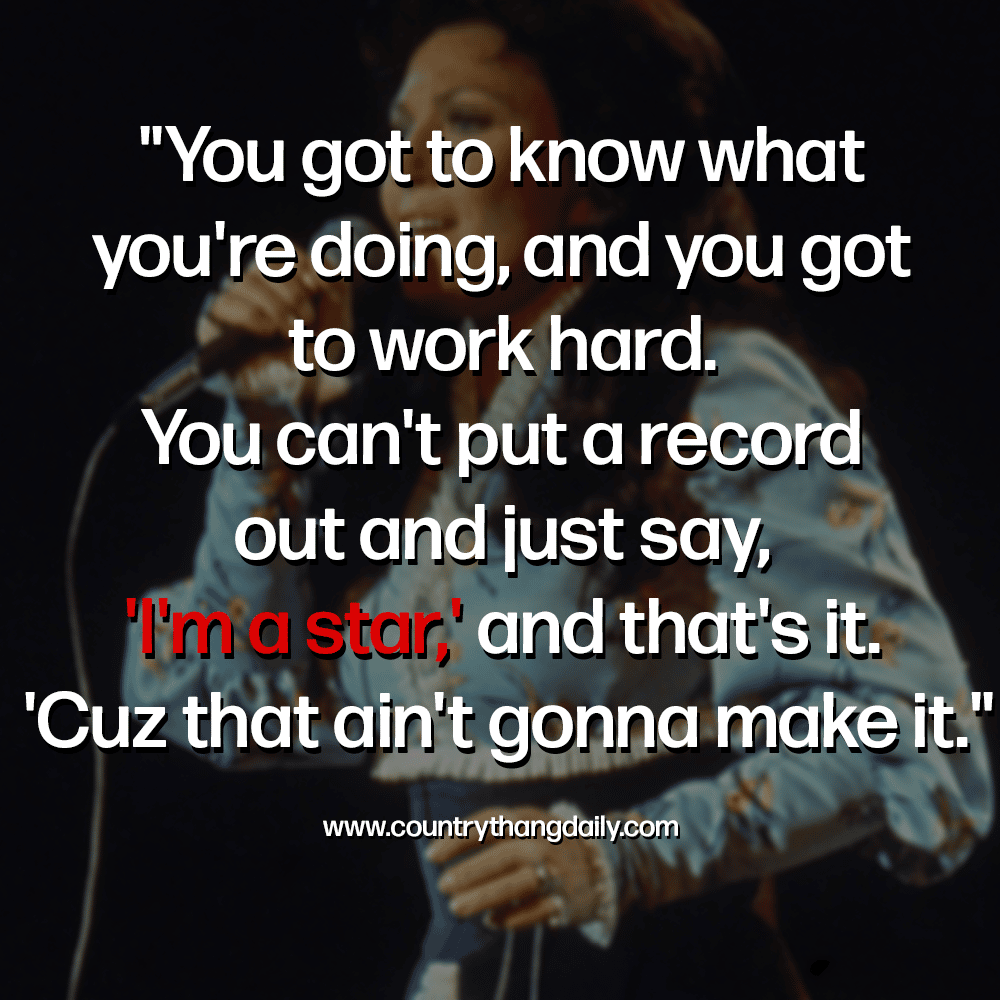 8. "I wasn't the first woman in country music. I was just the first one to stand up there and say what I thought, what life was about. The rest were afraid to." – (Esquire, 2000)
9. "To write a song, I write about me a lot, you know? And, 'Coal Miner's Daughter,' I sat down on the back porch of the old home place and just looked up the hill and started—' Well, I was born a coal miner's daughter'—and I wrote the song. It's like writing a poem and, you know, no big deal. When you're hungry, you can find that you can do a lot of things that you didn't know you could do." – (Southern Living: Biscuits and Jams Podcast, 2021)
RELATED: Top 10 Loretta Lynn Songs Of All Time
10. "People get lazy. When they get a hit out, they think every one they put out is going to be a hit. Most of the time it's a one-record wonder. But you can't work on one record. I had to have sense enough to know when I started writing and singing that I had to have more than just one record to work the rest of my life. So I kept writing hits. You can't depend on somebody else writing them." – (Time Magazine, 2016)
11. "Everybody told me I wasn't saying my words right, but I wouldn't listen to 'em. If I would've listened to 'em, I would've been doing [songs] just like them. And that wouldn't have been different, would it? Hell, I got more sense than that. I might have been born in Butcher Holler at night, but not last night." – (Billboard, 2020)
12. "I think people should be available to all the fans. They're the ones making the living. When you think about it, why wouldn't you be nice to them?" – (PBS News Hour, 2016)
13. "I think it's a shame to let a type of music die. I don't care what any kind of music it is. Rock, country, whatever. I think it's a shame to let it die, and I'm here to start feeding it." – (Vocal Point with Martina McBride, 2020)
14. "I never sang onstage until I was about 27 or 28 in 1960 or '61. But I wouldn't change that; it's one of the reasons I worked so hard. If I hadn't been as old as I was, I probably wouldn't have been as determined. I had four kids in school, so I knew I had to make it or else." – (Tinnitist, 2012)
Loretta on the importance of being herself
15. "Being who I am, I just stayed who I was because I knew if I changed, I would forget that I changed yesterday. And I'd be trying to change again tomorrow and doing something different every day, but you're gonna get caught up in, so I just stayed the same. I thought you'd have to take me like I am or forgive me."
16. "I look at these awards like they're somebody else's. That way, you could stay grounded."
Loretta on marriage
17. "When you marry a man, you have to work things out between the two of you; a marriage counselor won't do you a darn bit of good. You have to care enough to care." – (San Diego Union Interview, 1987)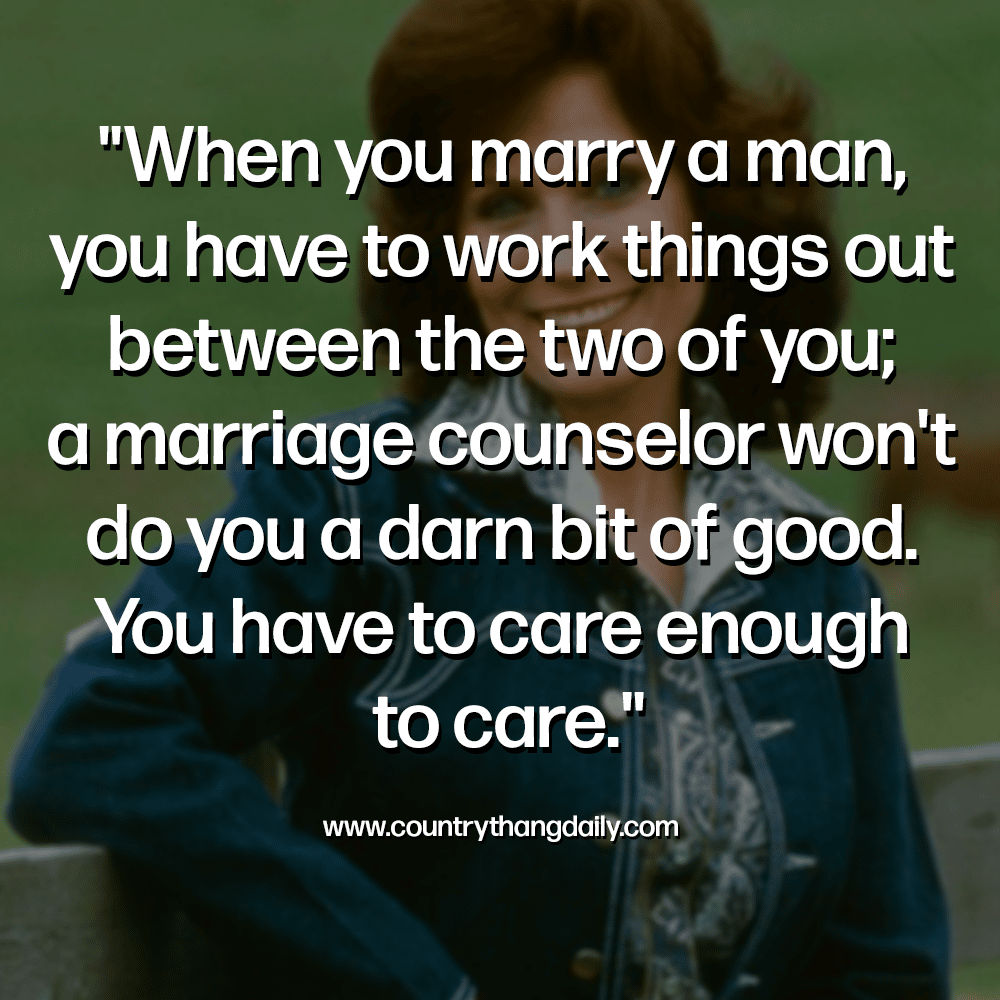 RELATED: Loretta Lynn and Husband Oliver Lynn Love Story
18. "Other women underestimated me. If you can't fight for your man, he's not worth having." – (Time Magazine, 2016)
19. "Oh, we had a – I think we had a relationship. We fought one day and would love the next. So, I mean, that – to me, that's a good relationship. If you can't fight and if you can't tell each other what you think, why, your relationship ain't much anyway." – (NPR Fresh Air, 2010)
Loretta on Mooney being a cheater
20. "Does a man ever settle down?" 
21. "I still write songs about the old girlfriends too. That's good. They're still making me money."
Loretta on standing her ground
22. "I might've been little, but I fought. He never hit me once, and I didn't hit him twice. Let's put it that way."
Loretta on losing someone
23. "When you lose someone, you're gonna know then that nothing will ever gonna be okay again." – (Joan Rivers Show, 1989)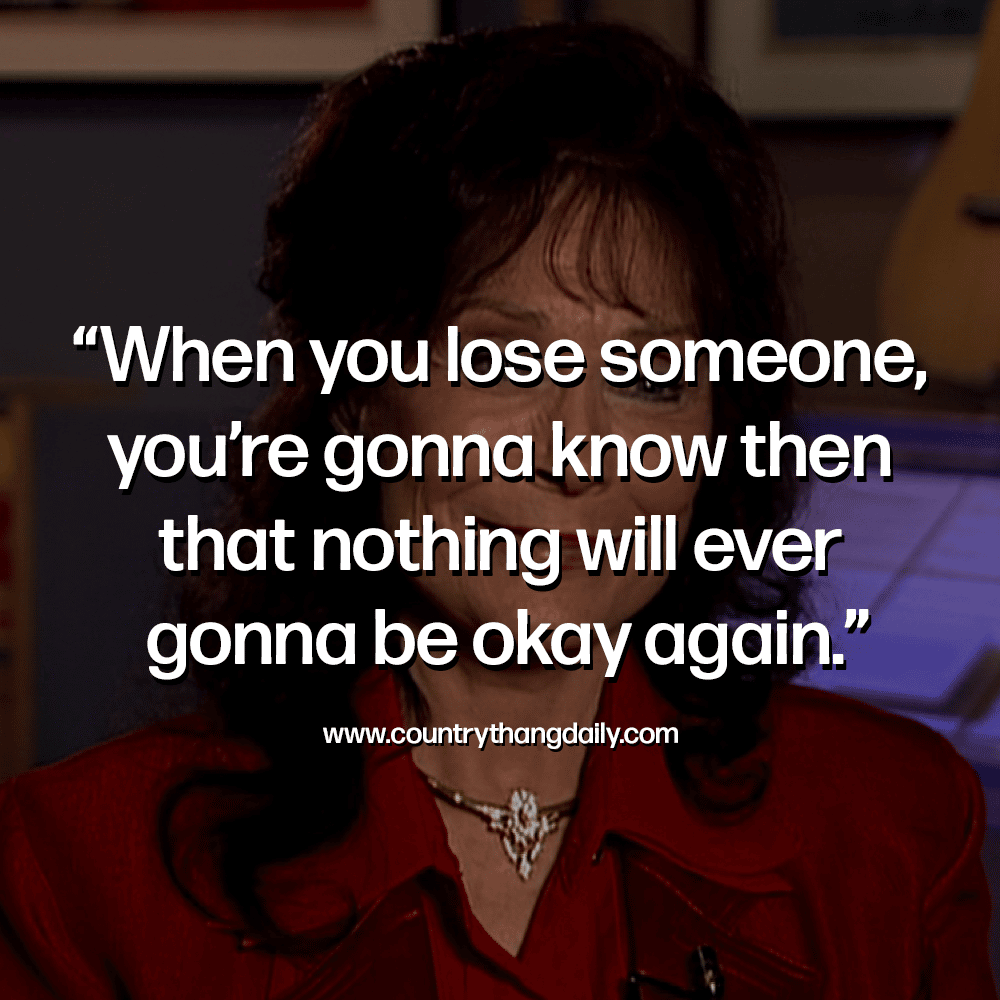 If we want to live a better life, it's good to take in a bit of Loretta Lynn quotes. That is, we should strive to be someone as fearless and honest as she did.
---
---