After captivating viewers and fans during her stint on the American Idol with her pure voice and quirky personality, Kellie Pickler signed a recording deal with a recording company and was at full steam in taking the country music industry by storm.
Pickler was reputably known as one of the goofballs in the industry, so the shift in her emotional performance at the CMA awards in 2007 took everyone by surprise.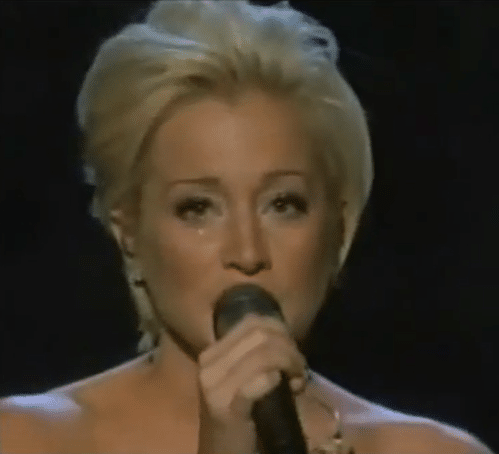 Tear-Jerker Performance
Wearing a fabulous red dress, a poised Kellie Pickler stood on the stage and confidently sang her single "I Wonder," but with the audience totally clueless about what was going behind inside her.
This was also Pickler's first CMA performance which happened a year after American Idol Season 5 aired. Pickler mentioned that since she was a little girl, she has been watching the CMAs. It was a great memory and experience for Pickler to share the same stage with the legends that she has been watching and listening to before.
"I Wonder"
"I Wonder" was a single that Kellie Pickler released on her debut album, "Small Town Girl" in October 2006. Pickler co-wrote the song with Chris Lindsey, Aimee Mayo, and Karyn Rochelle. The song contained all of the "what ifs" that Pickler had with her non-existent relationship with her mother.
Pickler was born in Albemarle, North Carolina. Throughout her childhood, her father has been frequently going in and out of jail. Pickler's mother alleged that her husband was abusing her which made her decide to abandon Kellie at the age of 2. Kellie was left in the care of her grandparents and she credits their influence in her growing up years.
At the age of 19, Pickler joined the American Idol where she advanced up until the semi-finals. She was also one of the favorites of judge Simon Cowell who predicted that she could be included in the top 3. With the help of her quirky personality, Pickler caught the attention of a lot of the fans and viewers of the show.
After her elimination from the American Idol, Kellie Pickler released her first single "Red High Heels" which was nominated for the CMT Video Awards as Breakthrough Video of the Year. This was followed by her hit debut album, "Small Town Girl" which landed on the ninth spot on the Top Country Albums.
The Void in Kellie Pickler's Heart
Despite all of the attention that Pickler was gaining from her breakthrough year, there was still one thing that held a void in Pickler's heart. During her performance in the 2007 CMA awards, Pickler admittedly said that she was shaking all throughout her performance. She even admitted that the reason she was holding the microphone with her two hands was for her to stop shaking.
As she sings her ballad "I Wonder," Kellie Pickler reflects on all of the vacant memories and opportunities that she did not have since her mother left her a long time ago. When she reached the last chorus of the song, Pickler started to sob as she sang the last few lines. In response, the fans clapped as they cheered the courageous singer.
After her emotional performance, Pickler's mother started to reach out to her using different public outlets. Her mother also grabbed the opportunity to speak out about the domestic violence she suffered which she quoted as the reason for her absence in the life of her daughter. However, Pickler made it very clear that there are still a lot of riffs that have to be addressed in their relationship and have never progressed.
More than a decade after her emotional performance, Kellie Pickler could look back at that moment with pride. She claimed that it was a great honor to be able to share the same stage with the country music legends she has grown up watching. Singing that particular song in front of such a great crowd was something she will never forget.
Recently, Pickler has continued to be under the bright lights focusing on her TV and acting skills. From 2017 to 2019, she had hosted two seasons of the daytime TV talk show Pickler & Ben and has also appeared in several TC movies including Christmas at Graceland.
---
---