Without a doubt, Willie Nelson's career has been nothing short of legendary. He has contributed a massive series of masterpieces, like "Funny How Time Slips Away," "Pretty Paper," and "Crazy," among others.
Another thing he's famous for is his first three marriages which ended in divorce and finally finding his great love in Annie D'Angelo. He also has quite a few children, and some of them have followed his footsteps as a musician.
Here's what we know of Willie Nelson's kids.
Lana Nelson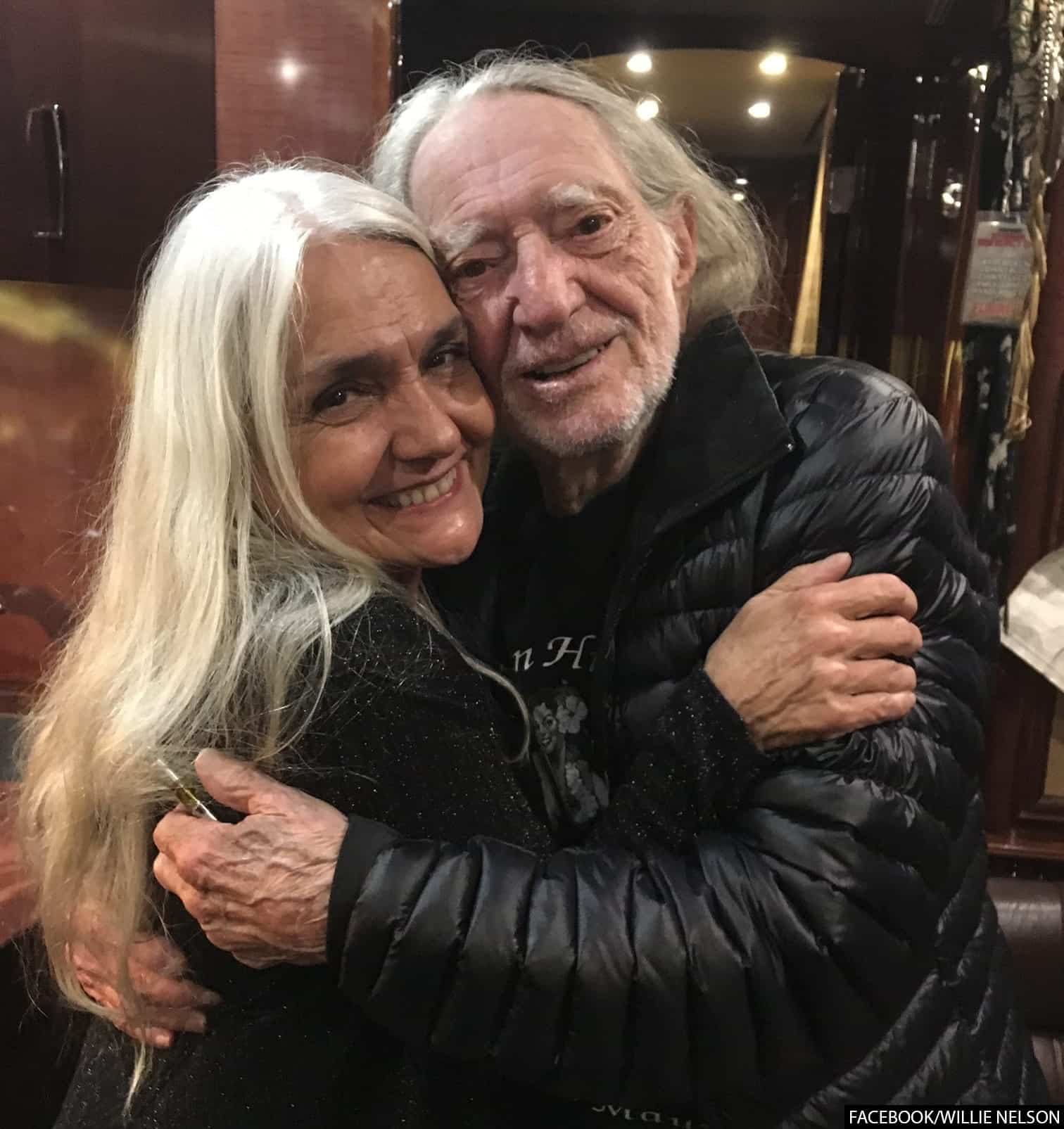 Willie Nelson became a first-time dad when he and Martha Matthews welcomed Lana in the world. She is frequently seen on Nelson's social media accounts. Nelson has constantly been sharing posts of exciting memories with Lana, like the time Lana was signing his cast or when Lana supported his business. The photos on Nelson's posts clearly show his relationship with his eldest, and it's one he has kept close to his heart.
Lana Nelson played a small part in Nelson's 1986 film Red Headed Stranger. And in case you're wondering where Nelson has gotten his nickname "Shotgun Willie," well, it was actually all because of Lana. It all started when Nelson learned that Lana has been suffering abuse at the hands of her husband, Steve. The singer drove all the way to Steve and Lana's place and slapped Steve around. He told his son-in-law never to lay a hand on Lana again.
He knew that Steve would come after him. So Nelson hid in his truck so Steve could not tell if he was home, and he had his M-1 and a shotgun. As he expected, Steve drove by, but "Shotgun Willie" came charging out of the garage. His son-in-law took one look and decided to retreat. "That's when I shot his car and shot out his tire," Nelson said. The singer wrote the song "Shotgun Willie," the title track of his album, in 1973.
Susie Nelson
Nelson and Matthews were then again blessed with a second child, Susie.
Susie Nelson is now an author. In 1987, Susie released an autobiography titled, "Heart Worn Memories: A Daughter's Personal Biography of Willie Nelson," where she paid tribute to her father and shared what it was like being his daughter.
In 2012, she co-hosted "Susie's Gospel Hour" with her dad on his Sirius XM channel, Willie's Roadhouse.
William Hugh, Jr. (aka Billy Nelson)
Nelson's third child with Matthews was Willy Hugh, Jr, who they fondly call Billy. Unfortunately, on a Christmas Day in 1991, Billy Nelson was found dead and hanging from a cord in his home in Davidson County, Tennessee. A Medical Examiner confirmed that the death was a suicide.
Billy's suicide came just after two years his mother died, and only one year after he was admitted into a rehab center for his alcohol abuse. During that time, Billy has also recently separated from his wife, Janet Caldwell, who had custody of their young daughter, Rae Lynn. Nelson, though, once admitted that his work often kept him away from his son, especially when Billy was just a kid. "I was too busy trying to pay the rent," the singer said.
Nelson was away in Abbott, Texas, when he received the shattering news. It left him shocked and devastated. Later on, Nelson admitted that it was the darkest period in his life.
Billy Nelson was a talented, but struggling musician living just outside of Nashville at the time of his death. He had planned to release an album of gospel tunes he'd written — this includes "My Body's Just a Suitcase for my Soul" and "I Can Live Forever," and which he had recorded a duet together with his father shortly before he died.
Nelson put together and released the gospel album, titled Peace in the Valley, in 1994 in honor of his late son.
Paula Carlene Nelson
Paula Carlene Nelson was born out of wedlock to Nelson and Connie Koepke, while Willie Nelson was married to fellow country singer Shirley Collie. When Collie found out about the birth, she divorced Nelson.
When Paula was just a kid, she often went on tour with her father. In 2013, she sang a duet with Nelson, a cover of "Have You Ever Seen the Rain?" on his album of duets, "To All the Girls…." She has also been a DJ at the Texas radio station KDRP-LP, or "Sun Radio" for four years and hosted "The Paula Nelson Show" on weekdays on the Outlaw Country channel on Sirius XM Radio.
Amy Lee Nelson
When Nelson married Koepke, they eventually had another child, Amy. She is part of the Texas musical group with Cathy Guthrie called Folk Uke and has released two albums.
Amy Lee Nelson can also often be seen singing with her father on stage.
Lukas Autry Nelson
Lukas is the first son of Nelson with his fourth and current wife, Annie D'Angelo, and he is probably the most famous one among Willie Nelson's kids. He has been a member of an American country rock band named Promise of the Real or POTR since 2008. Their band has been touring and recording with another superstar, Neil Young.
Lukas Nelson also inspired Bradley Cooper to make the film "A Star is Born." Cooper wanted to base his character and model his performance on Lukas, but as they spent more time together, the actor asked Lukas to write songs for the movie and even to appear in the film.
Jacob Micah Nelson
Micah Nelson, on the other hand, is the youngest. He heads the band Particle Kid and can also often be seen touring with his father and his brother.
Micah admitted that it was his father who inspired him to start his own band. He has been his beacon and guide. "He was breaking down barriers and fearlessly doing his thing," the youngest Nelson said. "For me, to fearlessly do my thing and be myself, I can't think of any other way to respect and honor my dad's legacy."
Renee Nelson
In 2012, Willie Nelson revealed that he got another child, and he did not know about it until 2012.
"I have an old, dear friend Mary Haney, who I'd lost touch with but recently met again after decades," the singer said. "Turns out, Mary and I had a child together called Renee."
Renee now has a daughter, Noelle, and granddaughter, Jordan. Nelson said that his only regret is that he didn't know about Renee, Noelle, and Jordan sooner. Willie Nelson's kids have met and welcomed Renee. They had spent Christmas together.
Although Willie Nelson's children do not all share the same mother, they have a lot of love and respect for each other. 
---
---