Virginia Patterson Hensley professionally known as Patsy Cline was a popular music artist in the 1940s to the 1960s. She has spent over 15 years in the country music industry. Thus, she is considered as one of the most influential vocalists of the century and one of the first country artists to successfully cross over to pop music.
Cline has a great influence with her various styles and genres. During her musical career, she has gained numerous major awards and honors with her classic hits and albums. With this, let us talk about one of her classic hits entitled, "Leavin' on Your Mind." Do you know anything about this song?
Patsy Cline's "Leavin' on Your Mind"
"Leavin' on Your Mind" is a song written by Wayne Walker and Webb Pierce. Joyce Smith, a British performer, popularized this song in 1962.
Patsy Cline first heard Smith rendition while she was in Owen Bradley's Office. Upon hearing the song, she immediately wanted to record it. However, Smith told her that she cannot have it.
"No you can't have it. I'm going to see what that Canadian gal does with it.'
Cline tried to convince her producer and she was granted.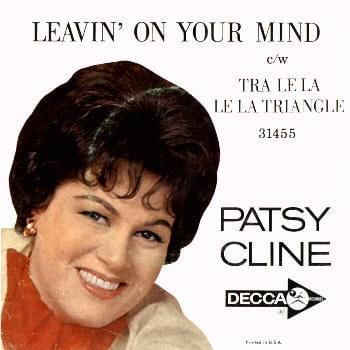 Smith's rendition was released in 1962 and sold more than 100,000 copies worldwide while Cline's rendition was released in 1963. However, Cline's rendition did not make it huge, but the song became memorable. Thus, it became her last single before she died in a plane crash on March 1963.
Cline's rendition of "Leavin' on Your Mind" is one of the singles from her album, The Patsy Cline Story. As years passed, the song entered into country charts and peaked at number 8 on the Billboard Country chart. Since it became popular, various music artists such as LeAnn Rimes, Lorrie Morgan, and Terri Clark made their own versions of it.
Listen to Patsy Cline's rendition of "Leavin' on Your Mind" below:
---
---