Ned LeDoux headlined the Farmer Strong benefit concert at Five Rocks Amphitheater in Gering, Nebraska recently that netted $195,000 for the Fort Laramie Canal Breach Disaster Relief Fund.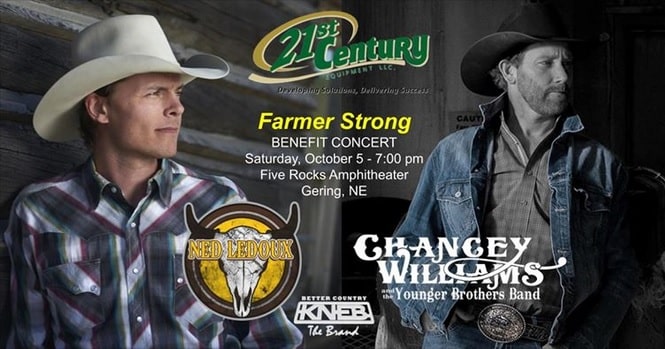 The canal provides irrigation water to approximately 107,000 acres in Wyoming and Nebraska, and 100% of the funds raised from the event support area producers affected by the breach and tunnel collapse that occurred July 17.
In doing the event, LeDoux mentioned that since he himself came from a ranching background, he would always support events that supported family ranchers and farmers.
And, there's no stopping the country crooner anytime soon! He's working on a tour, and has another album in the works!
LeDoux has been on the road with his Dance With Your Spurs On Tour presented by Just LeDoux It Whiskey promoting Next In Line, his second full-length album, and current single "Old Fashioned."
The 13-cut album is filled with songs that reflect his roots and honor the hard-working characters who have influenced his life.
Produced by Mac McAnally, you can pre-order the album here.
Ned LeDoux's Next In Line Track Listing
1. Old Fashioned (LeDoux/Mac McAnally)
2. Worth It (LeDoux/Mac McAnally)
3. Dance With Your Spurs On (LeDoux/Corb Lund)
4. Next In Line (LeDoux/Mac McAnally/Terry Moylan)
5. A Cowboy Is All (LeDoux)
6. Where You Belong (LeDoux)
7. Travel Alone (LeDoux)
8. Path of Broken Dreams (LeDoux)
9. Just A Little Bit Better (feat. Mac McAnally) (Mac McAnally/Chris Stapleton)
10. Almost Saturday Night (John Fogerty)
11. Great Plains (LeDoux/Mark Sissel)
12. Chris LeDoux Intro (Chris LeDoux)
13. Homegrown Western Saturday Night (Chris LeDoux)
Ned LeDoux's Dance With Your Spurs On Tour presented by Just LeDoux It Whiskey dates:
Dec 5 – Las Vegas NV – Silverton Casino
Dec 6 – Las Vegas NV – Silverton Casino
Jan 25 – Denver CO – The Grizzly Rose
Jan 27 – Gillette WY – Cam-Plex Wyoming Center
Jan 30 – Elko NV – Cowboy Poetry Gathering
Jan 31 – Elko NV – Cowboy Poetry Gathering
Feb 1 – Elko NV – Cowboy Poetry Gathering
---
---