Country music star Kenny Rogers was one of the most celebrated performers of his time. He "passed away peacefully at home from natural causes under the care of hospice and surrounded by his family" on March 20, 2020, at the age of 81.
He leaves behind a loving family, including his five children, Carole Lynne, Kenny Jr., Christopher Cody and the twins, Justin and Jordan. Before his death, Rogers was the proud dad of the five kids.
Here are more details on Kenny Rogers' children.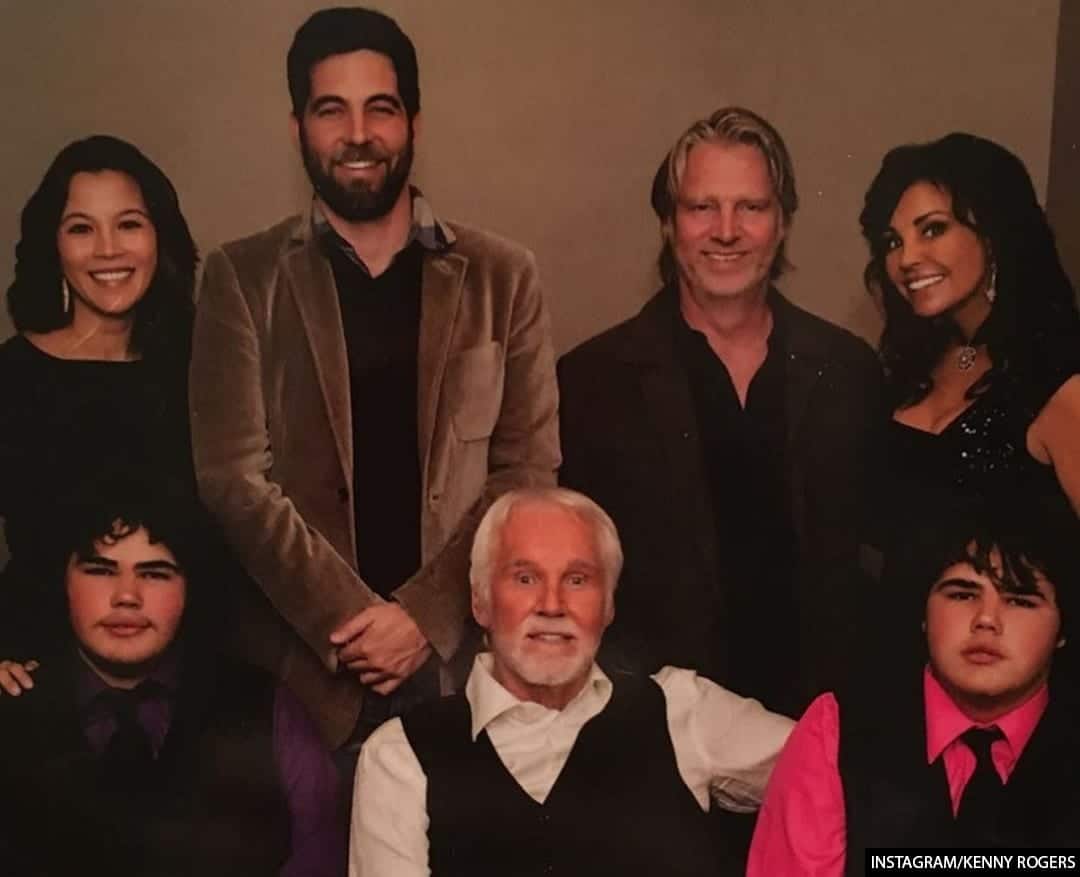 Carole Lynne Rogers
Carole is the oldest child and only daughter of the country music star. Unfortunately, Kenny Rogers was not able to play an active role in Carole's childhood. This is because of an arrangement made with his first wife, Janice Gordon.
Kenny Rogers and Carole Gordon married when Rogers was just 19 years old. The couple tied the knot in 1958 after Rogers became pregnant. Rogers wanted to do what he thought was the right thing, so he married Gordon before their daughter was born. They welcomed Carole into the world on September 15, 1958.
In his autobiography, Luck or Something Like It, Rogers said he was fully prepared to take on the responsibility of a husband and father. "I understood how girls got pregnant and that guys had an obligation when they did," Rogers wrote. "When my Janice got pregnant, I was fully prepared to take the step into married life. It never occurred to me to walk away from the responsibility."
However, Gordon's parents weren't happy with Rogers's career choice. During that time, the "Coward of the County" crooner was still building his musical career. "The truth is, Janice's parents never got used to the idea of their son-in-law being a musician, whether I was making money with a series of day jobs or not," Rogers shared in his autobiography Luck or Something Like It.
"Once they saw that I wasn't going to change my career ambitions away from music, they wanted little to do with the marriage. They wrote me off as a long-term breadwinner, and our marriage turned sour and lasted only until the next October of 1959."
According to Rogers, his marriage took a turn for the worse after he and Janice got into an argument.
"The whole thing ground to a halt one day when our daughter, Carole, was about six months old. Janice and I were having what some might call an argument, but it was actually more of a difference of opinion. I don't even remember what it was about. I am capable of getting pretty heated during an exchange of views, and Janice was the kind of person who hated confrontation," Rogers said.
Rogers and Gordon's marriage didn't survive that disagreement. After their divorce, Rogers was granted only one visit per week with his daughter, and each visit was only two hours at a time. A few years later, his country superstardom began. He was constantly on the road and scrambling as a singer that he drifted away from Carole and was only visited her once in 15 years.
When Carole was 22, he attempted to mend fences, Rogers flew Carole and her mother in for a visit and a Hawaiian vacation. However, the reconciliation did not last for long. In his 2012 interview with Fox News, the country star revealed that he does not have any contact with his only daughter.
Shortly after their divorce, Gordon remarried and her husband has adopted Carole when was a child. Rogers also explained that he and Gordon both agreed that he would play a limited role in his daughter's life upon their split.
"That was my promise to them, that I would be her father but he (his ex-wife's second husband) would be her Dad, and I don't want to disrupt that. He stepped in at a time that was really awkward for all of us and he became her Dad, and I love him for that. He was a good guy."
Kenny Rogers Jr.
Rogers' first marriage surely didn't seem to make him hesitate to quickly tie the knot again After cutting ties with his first wife and officially divorced in 1960, the former Hollywood heartthrob married wife No. 2 Jean Rogers that October. However, their marriage only lasted three years and the country crooner went on to tie the knot with his third spouse, Margo Anderson, in 1964 and it came at a time that he was also building his music career into something more solid.
Kenny and Margo welcomed the star's second child, Kenny Jr. However, in the late 1960s, when the demands of music were growing bigger and bigger, it took a toll on their relationship. "So then I met this girl and that was a really exciting relationship, which lasted 12 years, and out of it we had a son," Rogers recalled.
"In fact, the first nine years were as good as it gets, and it was only the last few that got ugly. I was touring a lot and that is part of what killed the marriage." Rogers and Anderson divorced in 1976, which was just as his country music career was really taking off. Their divorce created a divide between Rogers and his son.
In his 1980 interview with People, Rogers said that he has hardly seen Kenny Jr. since 1975, and if he had one wish, Rogers said, "I would wish desperately that my relationship with Kenny Jr. were better." Rogers also described his son, in that said interview, as a boy that has a genius-level IQ. During that time, Kenny Jr. attends school in Palm Springs, where his mom has resettled.
Today, he is now 55 years old and has worked as a composer on movie soundtracks such as Shenanigans, Get Him to the Greek and Pacino is Missing. He has also appeared in TV shows and movies too, like About a Bum and a Boy. He even directed his first short film in 2014, Up All Night.
Christopher Cody Rogers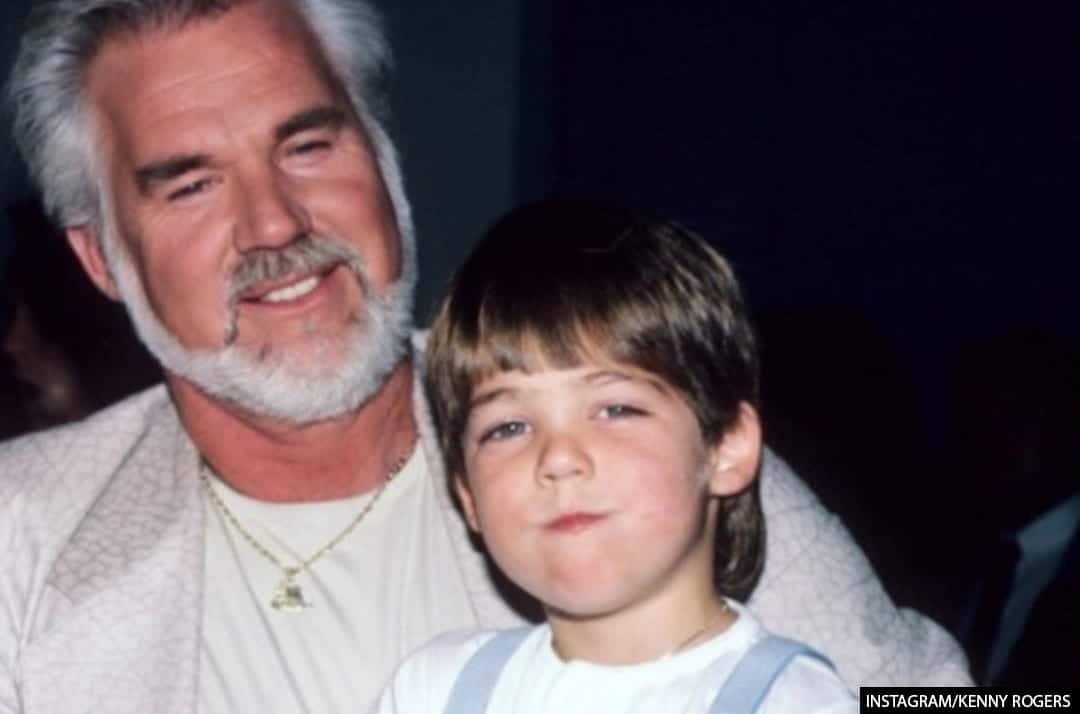 In 1977, Rogers married his fourth wife, Marianne Gordon who is an American actress best known for her roles in The Gambler in 1980, Little Darlings in 1980, The Being in 1983, Coward of the County in 1981, Fire and Rain in 1989, and The Gambler Returns in 1991. She also joined Hee Haw in 1971.
Rogers and Gordon had one child, Christopher Cody Rogers. He was born on December 4, 1981, at Cedars-Sinai Medical Center in Los Angeles. He was born suffering from hyaline membrane disease, a respiratory disorder that proved to be fatal to infants; but thanks to the new medical techniques, Christopher Cody overcame the crisis.
Unlike his previous kids, Rogers was more involved this time. He even attended Lamaze natural childbirth classes with Gordon for three months. When Cody was born, Rogers has pondered his past shortcomings as a father.
He has admitted his driving ambition for stardom has been the main reason why his earlier marriages never worked out and resulted in his long neglect of daughter Carole Lynne and son Kenny Jr, who were 23 and 17 during that time.
"As you try to get ahead, it's too easy to think that these kids are still going to be kids tomorrow and that once you get your current project done, you'll spend some time with them," Kenny reflects seriously. "Then you say, 'Well, he's still a child, after all, so I'll go ahead and get one more project done.' The next thing you know the child is grown up and you can't relate to him at all," Rogers said to People in his 1982 interview.
However, after 15 years of marriage, Rogers and Gordon ended up in a $60 million divorce that at the time landed Rogers on lists of the most expensive divorces in celebrity history. Rogers said that after their son was born, she couldn't tour with him as much and she stayed home to take care of their child.
"In fact, everything was fine until our son Christopher was born – but I wouldn't want him to take any responsibility for this – because that's when Marianne stopped touring with me and stayed home to take care of him, and then when I came home from touring or doing a tennis tournament, I found that our lifestyles were clashing. So one day we just said, 'Life is short, we deserve to be happy, let's find something else to do with our lives,' and the marriage ended," Rogers said.
Christopher Cody also had a hard time dealing with his parents' divorce.
"I remember when I told him – we were out in a golf cart together – I said, 'Chris, your mom and I are going to get a divorce,' and he started screaming, " Rogers said.
"I said, 'It's going to be OK, I won't spend as much time with you but the time I spend will be quality time,' and he said, 'But will you still be my dad?' So I told him, 'Of course', and he said, 'I thought Mom was going to remarry and somebody else was going to be my dad and I could never tell people you were my daddy and you wouldn't look at me like I'm your son.' It was just a 12-year-old sorting out those things in his head, but then he was fine."
Today, Christopher Cody works in the entertainment industry, like his father. Christopher, however, is a director and actor. He has also been a writer, producer, and editor in film.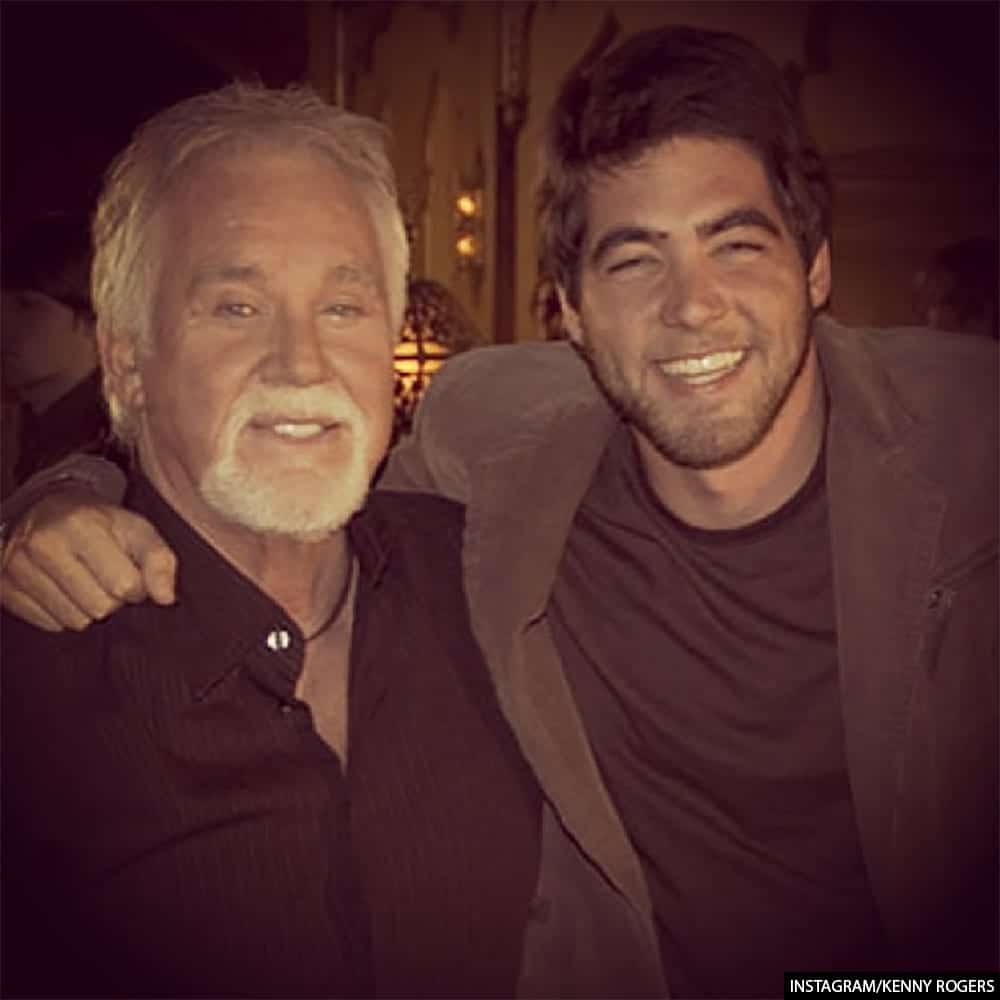 He pulled triple duty as writer, director, and actor in the short film Two If By Sea. Some of the other TV and movie projects he was a part of include The Gambler Returns: The Luck of the Draw, Park, Loneliness, Reno 911!, Six Pack, and Kenny & Dolly: A Christmas to Remember.
Christopher's mom even appeared in one of his TV Movie projects, The Gambler Returns: The Luck of the Draw, as Miss LaRosa.
Jordan Edward Rogers and Justin Charles Rogers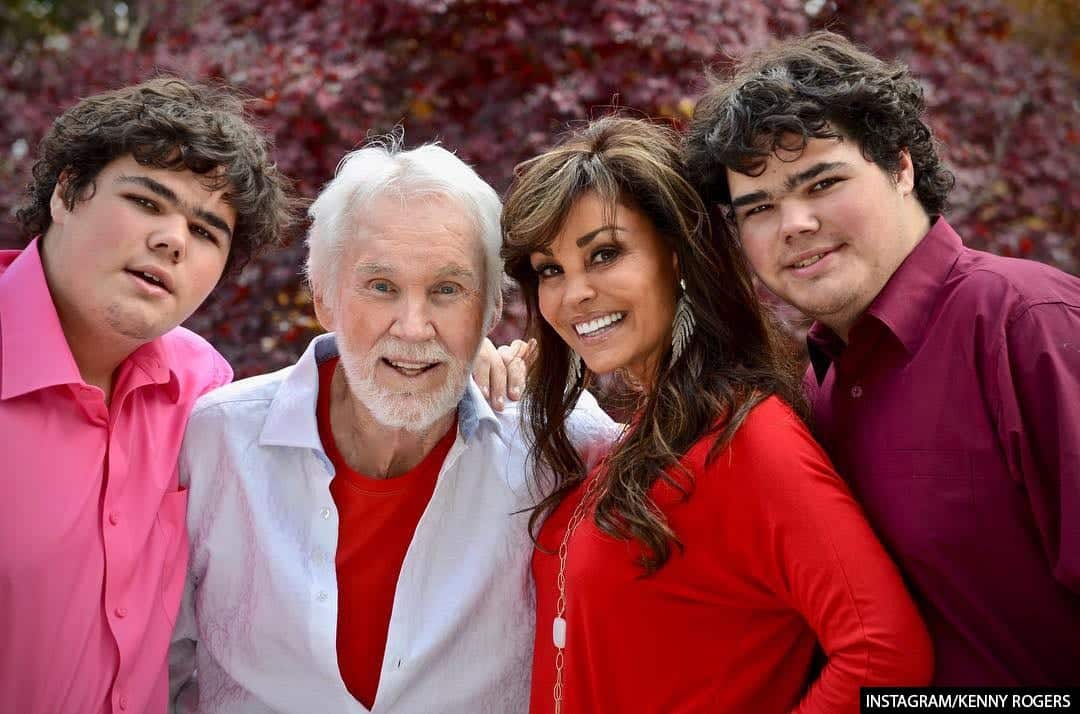 In 1997, Rogers married his fifth and final wife, Wanda Miller at his ranch near Athens, Georgia. Rogers admitted that in his previous marriages, he wasn't really sensitive towards his family's needs but that his relationship with Miller was different.
RELATED: Meet Kenny Rogers' spouse, Wanda Miller
In his 2012 interview with Reuters, the country star said, "Wanda and I have been together now for 20 years, been married 15 years. She's 28 years younger than me, and I say this from the bottom of my heart – she is my soul mate. She knows me better than anyone else has known me. She loves what I do and I'm not as insensitive to her needs as I may have been in the past."
However, at the beginning of their marriage, Rogers didn't want any more kids.
"Actually, before we married my position was, 'Been there, done that', so I told her, 'I don't want any more kids' and she said, 'I don't either,'" Rogers claimed. But after some soul-searching and Rogers realized it was unfair of me to take Miller's childbearing years.
They had twin sons together, Justin and Jordan, born on July 6, 2004, in Atlanta, Georgia and Rogers think he's spending the most rewarding years of his life.
"I think the years with Wanda have been the most rewarding. That's no offense to any of the other people I was married to. I just think I wasn't ready before," Kenny said. "I've had a lot of things in my life. I've made loads of money and had the biggest and best of everything, but now I'm back to looking at the small things that matter: my boys. Wanda. It's not about me anymore. It's about them," Rogers said
Apparently Rogers felt he'd missed some essential moments during his older children's early years and didn't want a repeat with the youngest. He told The Boot in 2013, "In my autobiography I talk about, there's a fine line between being driven and being selfish, and I think I may have crossed that line a couple of times when I was younger. And I don't wanna do that with the boys. I'm determined to be there and be a dad to them at all costs."
Kenny expressed the same sentiment about his presence in his children's lives as he opened up to The Tennessean in 2013. The Through The Years singer told the outlet that because he felt he wasn't there enough for his older children in a sense, he was hoping to redeem himself with his twins.
"I think success requires that you be selfish sometimes, and I refuse to do that now," he explained. "I'm determined to stay home with the boys, and it's really a wonderful gift for me. So if I have no more success, I'm OK. But to have the opportunity to have success [is really special]."
And in fact, he decided to put a pause on touring for his sons. In an August 2016 interview with CMT News, the Country Music Hall of Famer explained why:
"I hope my fans understand that I'm a father first and a singer second," he revealed. "As it turns out, I'm missing some very great parts of my boys' lives. I know as well as anybody else how that time gets away from you. And I don't want to miss it. I just worry about how much longer I'm going to be here, and I want to have time to spend with them. It's pretty simple."
What breaks Rogers's heart is knowing that he will no longer be around for Justin and Jordan's college years. This thought has even bothered the country star every day.
"Should I bring a child into the world when I know I probably won't be there to share, for example, their 21st birthday?… Someone will be talking about his or her child going to college and it breaks my heart… I knew I wouldn't be there at the prime of their lives. But it's that half-full/half-empty thing, because I get so much joy out of my children now and they are such a blessing to Wanda and me…"
Kenny Rogers' successful music career. He enjoyed enormous success in multiple genres: jazz, folk, pop, rock, and country throughout his six-decade career. He was able to sell more than 120 million albums, was inducted into the Country Music Hall of Fame in 2013, won three Grammy Awards, and was one of the top-selling artists of all time.
However, in his later years, Rogers expressed remorse for sacrificing family time to achieve that success. In his 2013 interview with Boot, the country star reflected, "I missed an important part of their life. I look back on my career and I say, 'Suppose I hadn't been selfish? Suppose I had been the father I should have been, would I be here today?' There's a point where you have to say, 'It doesn't matter what I did.'"
Kenny shared his biggest regret about not being there for some of his wives and children on Oprah:  Rogers admitted, "I was gone all the time, and that wasn't fair to them. I don't know that I'd be where I am if I hadn't done that, so that's why I say it's a fine line. But I think I was probably selfish … I regret any pain I caused them, but I can't change it."
Despite that, one thing is for sure, Kenny Rogers' children are so proud of the legacy he left behind.
---
---