Blake Shelton and Gwen Stefani shocked the world when they began dating in 2015, but they sure make a lovely couple. The lovebirds, who claim they saved one another, share an enviable fairytale romance, but did you know that things were much complicated for them before they hit it off?
That and so much more about this talented couple's love story.
Gwen Stefani Didn't Know Blake Shelton 'Existed' Before The Voice
Even though they both belong in the music business, Blake Shelton and Gwen Stefani met on the set of The Voice in 2014 for the very first time. What's crazier was that Stefani didn't know who the country singer was until she joined the show as a judge.
"I didn't even know he existed before the show," Stefani told Andy Cohen on his SiriusXM Radio Andy show. "I didn't even know that he was a human being on this planet."
But they never had the chance to bond after that first meeting. Stefani had just embarked on a solo career from her band, No Doubt, and just had a baby with her husband, Gavin Rossdale. So any downtime was spent on baby duty. As Shelton later told Billboard, he "never really got to know her, other than small talk."
The "Nobody but You" singer skipped out on season 8, and Blake Shelton was sure that would mark the end of their acquaintance. But boy, he was totally wrong!
They Found Love After Heartbreak
In the summer of 2015, both Shelton and Stefani went through divorces. On the brighter side, Gwen Stefani returned for season 9, right in time to hear the country star make a difficult announcement to his colleagues: he has ended his four-year reign with Miranda Lambert as one of country music's hottest couples. The couple are calling it quits.
"I won't forget that day. I looked over at Gwen — who I didn't really know — and she had these huge tears in her eyes. I thought, 'Wow, she feels super bad for me!" Shelton said.
But there's actually more to that. Unknown to Shelton, Stefani was also in the process of ending her 13-year marriage with Gavin Rossdale. Later that day, Stefani asked to speak to Shelton privately.
"I thought it was going to be another one of those things-are-going-to-be-OK talks," the country star recalled. "She didn't tell me much, because we didn't know each other at the time, but she said, 'I'm going through something very similar to what you're going through. I understand. And I hate it.' That's kind of how our friendship and bond started."
Blake Shelton and Gwen Stefani ended up leaning on each other during the mutual hard times, relating through the struggle of divorce. Shelton continued, "It went from that, to checking in on each other once a week through email — 'This shit happened to me, what happened to you?' — to maybe three times a week, then every day, to 'Hey, here's my phone number if you ever want to text.' Next thing I know, I wake up, and she's all I care about, and I'm ­wondering if she feels the same about me."
By November of 2015, Shelton and Stefani were officially a couple. A representative for Shelton finally confirmed the romance, saying, "Gwen and Blake are longtime friends who have very recently started dating."
Stefani, later on, told Ryan Seacrest, "To be super honest, it is kind of crazy we both went through the same thing at the same time." She added that they bonded through their divorces.
They Made Their Relationship Red Carpet Official in 2016
There's no place better than a Vanity Fair Oscars after-party to let the whole world know that you're more than friends. Stefani and Blake Shelton were glowing on the carpet hand in hand. She was wearing a fiery sheer Yanina Couture with satin overlays in all the right places. The country star, of course, looked adorable in jeans and cowboy boots.
They Saved And Healed Each Other
Blake Shelton has always been vocal about how Gwen Stefani saved him. "Gwen saved my life. Who else on earth could understand going through a high-profile divorce from another musician? You can't even imagine the similarities in our divorces."
Stefani thinks the same too. In her cover story for SHAPE's November 2019 Issue, the No Doubt singer opened up about how her relationship has been "healing" her ever since her divorce. "I feel as if I spent the last four years healing — you know, trying to build my life again," Stefani said. "Having a best friend like Blake to help me do that has been one of the greatest gifts."
Shelton Is a 'Great' Extra Dad To Stefani's Boys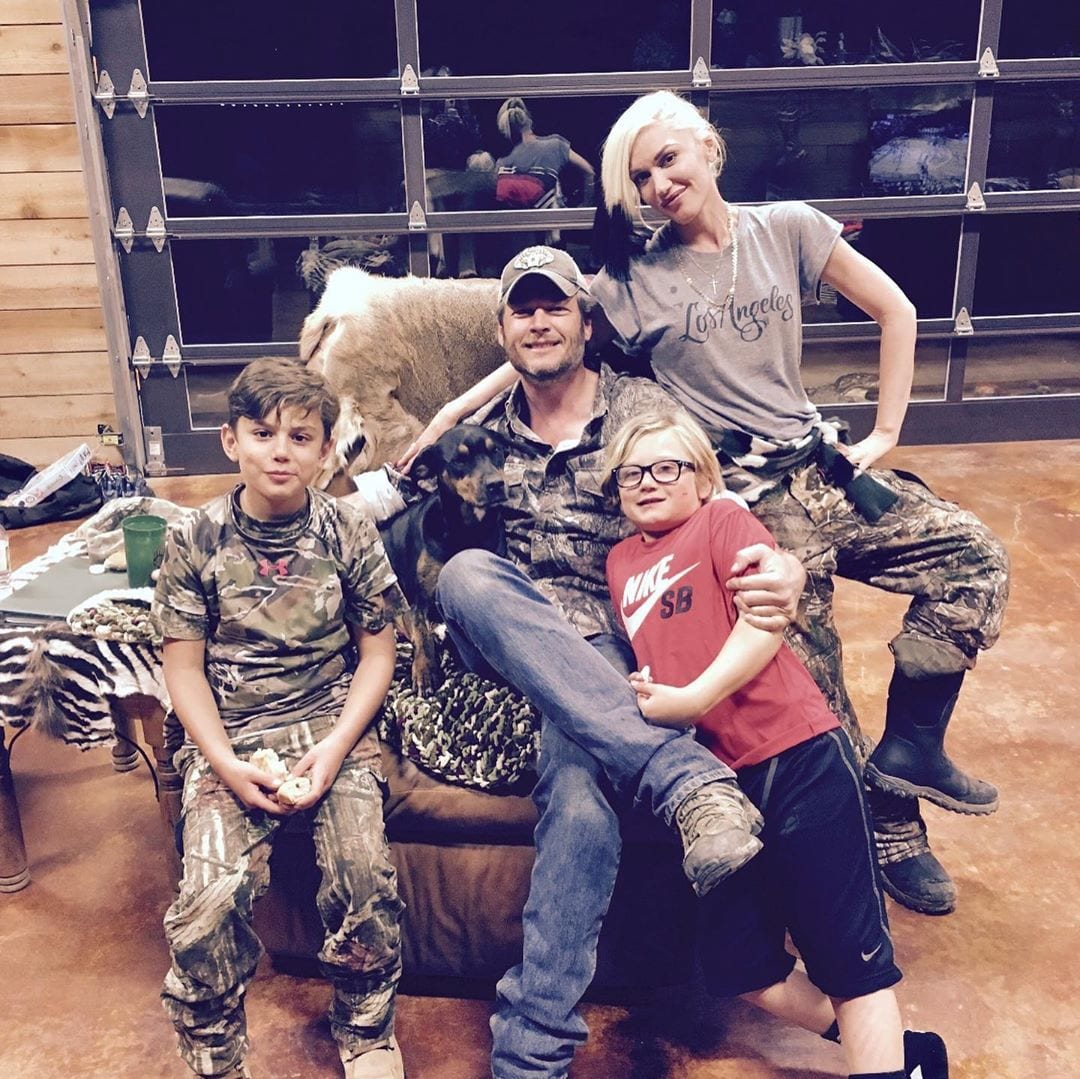 Over the last few years, Shelton has also become a second father figure to Stefani's sons she shares with ex-husband Rossdale: Kingston, Zuma, and Apollo. Shelton has a large part in raising the boys over the last few years.
"He is a good dad, actually," Stefani said. "He's been helping me out a lot. I literally get to the point where I'm like, 'You gotta get home—I need help!' It's hard. I got three boys."
She has also greeted the "God Gave Me You" singer a Happy Father's Day for helping her raise her three sons. "Happy father's day @blakeshelton," the singer wrote on Instagram along with a collection of photos featuring Shelton with her boys. "Thank u for helping me raise these boys!! #weloveyou!"
The world got glimpses of the blended family life during the premiere of UglyDolls, an animated tale that stars the voices of Blake Shelton, Kelly Clarkson, and Nick Jonas, in 2019. Shelton and Stefani graced the red carpet with the three boys.
They Bought First Home Together
The couple reportedly just purchased their first home together. According to Variety, Shelton and Stefani purchased a $13.2 million home in Los Angeles' San Fernando Valley. The 13,000 sq. ft. home has three floors and sits on a very private 1.6-acre lot.
The gated property also boasts several impressive amenities, including a state-of-the-art movie theater, a four-car garage, and a large outdoor pool and spa. It also has a cabana with an outdoor kitchen as well as its own wet bar.
The news of the couple's real estate venture comes less than a year after Gwen Stefani sold her Beverly Hills hilltop mansion, which she had previously lived in with then-husband Gavin Rossdale.
Believe It Or Not, Stefani Gets Nervous To Sing In Front Of Shelton
When they were first getting to know one another, Gwen Stefani revealed that she "think I sweated through my entire clothes trying to sing while he played the guitar." It all happened when they were about to practice the first song they wrote together, "Go Ahead and Break My Heart" in 2016.
"We wrote this song, and we weren't even in the same song when we wrote it. He sent me a verse, and then I sent him back on my phone the answer to it in the song. That was definitely exciting. I guess more exciting than nerves," Stefani said.
But that's no longer the case today. The couple already has several duets, including their recently released hit, "Nobody But You."
They are Each Other's Kryptonite
When it comes to coaching The Voice, Gwen Stefani and Blake Shelton seem to be each other's kryptonite. Fellow coaches, Kelly Clarkson and John Legend, revealed to PEOPLE what it's been like to work together with the couple.
"I never really spent time with Gwen before, but it's been so much fun getting to know her and see her and Blake together," Legend told PEOPLE. "It's a different side of Blake, seeing him with Gwen. I feel like she makes him better, and she softens him up a little bit. She's his weakness."
In response to John Legend, Stefani said about Shelton, "He's my weakness, I'll tell you that right now." And it appears that Stefani is "taking 100 percent advantage" of the situation, Shelton said. Any other way, it seems like Stefani and Shelton's romance has made for an interesting dynamic.
Are We Going To Hear Some Wedding Bells Soon?
After four years of being together, Blake Shelton and Gwen Stefani have continuously been followed by rumors of a secret engagement or wedding. But multiple sources told PEOPLE that the couple is ready to take the next step.
"They're all very like-minded and comfortable with each other," a source said. "Gwen brings this sparkle to the country world. Her love for Blake is clear, and she's been embraced by everyone."
The source added, "It's definitely headed toward marriage."
We're definitely going to patiently wait for anything substantial. For now, the hottest couple in the music industry is still going strong after four years together, and it seems like they're in it for the long haul.
---
Blake Shelton, Gwen Stefani
---