Jenny Leigh Miller is an up-and-coming country artist who wants to share her own brand of country music. Before releasing her debut song this year, she enlisted herself in the military. During her deployment, she started to play the guitar that was sent to her by her father.
Jenny Leigh Miller's Early Influence in Country Music
At a young age, Jenny was already introduced to the world of musicians. She was able to perform in front of a crowd while growing up in New England. This experience made her meet people with diverse culture and different backgrounds. Hearing the stories of the people she met, she felt like she wanted to know more about what is happening in the world. This became her reason to enlist in the army so that she could serve her country. After enlisting, she would have loved to continue working for the government but she chose to do music instead.
One of her major influences in country music is Shania Twain. Twain's empowering song made her pursue country music since she knows the influence of it in someone's life. Some of her other musical inspirations are Faith Hill, Martina McBride, Carrie Underwood, Trisha Yearwood, Reba McEntire, and Whitney Houston.
Here at Country Thang Daily, we were able to get an exclusive interview with country singer Jenny Leigh Miller. We were able to ask the reason what it is like to be a musician, what she wants her listeners to learn from her songs, and her experience working for her debut song.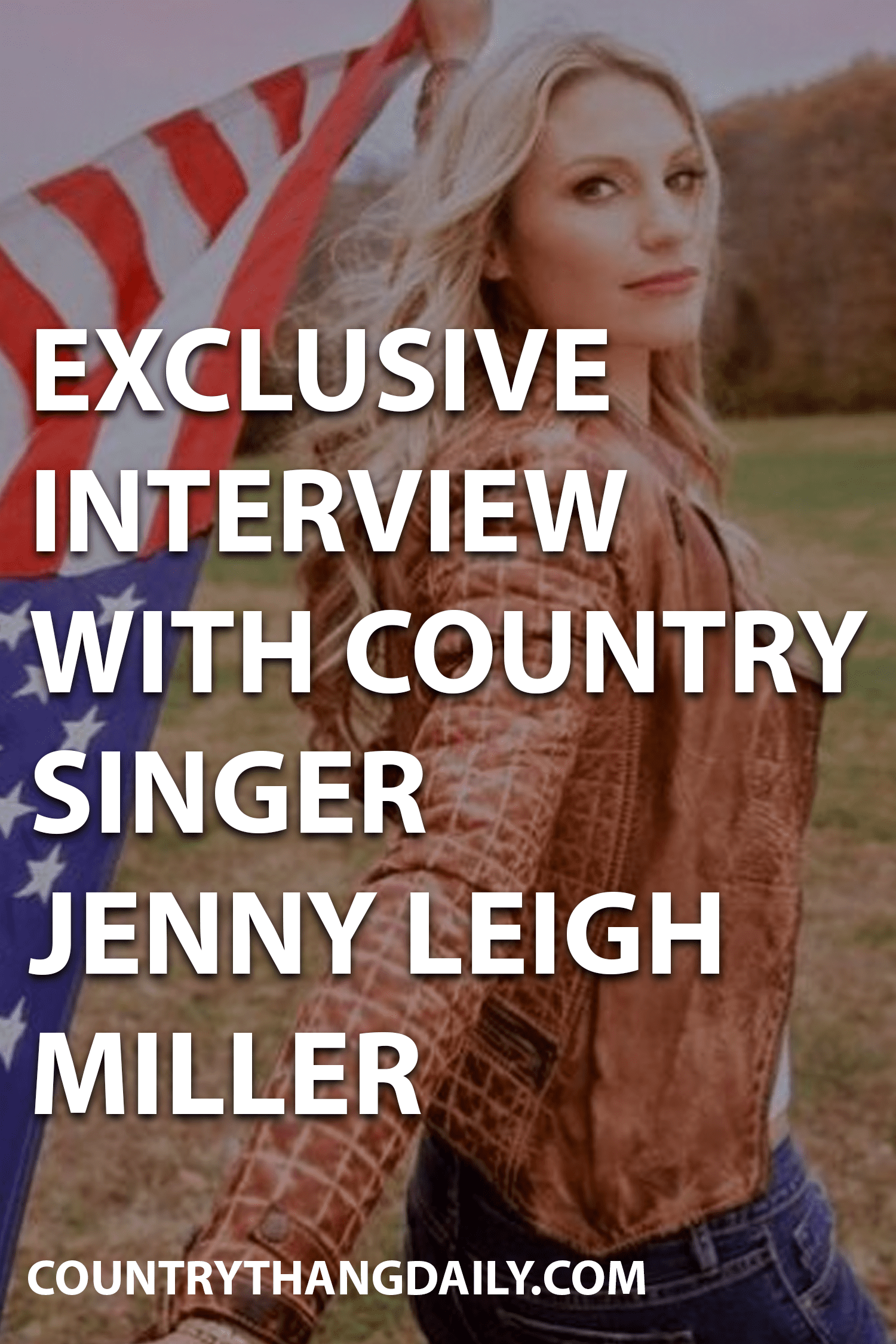 Country Thang Daily: Country music is known to be one of the most (if not the most) patriotic genres in music. As a US Veteran, did it push you to do country music or was it the other way around?
Jenny Miller: I was always attracted to country music. I used to watch CMT as a teenager. The song and video that got me hooked to the genre were Brooks and Dunn's "Red Dirt Road."
CTD: Your debut song "Driving with the Top Down," talked about hopping into your car with the windows down and just go somewhere beautiful. Have you ever done this in real life?
JM: Yes, I have. I think it's the perfect way to spend a summer date night. Whether it's driving around in a Jeep Wrangler with the top and doors off during the day, or watching the stars at night with the top off, it is really freeing.
CTD: Was there a moment where you just wanted to get lost somewhere? How does it feel like?
JM: All the time! I think modern life is overloaded with technology and people just get lost in their phone screens all day. I went to Cambodia last year and explored Angkor Wat. This was the ancient civilization that was featured in Tomb Raider with Angelina Jolie. I walked through the tomb without a guide, and it was an otherworldly experience to be that deep in the jungle by yourself.
CTD: It is stated in your Facebook bio that you have worked with Grammy-winning producers on your EP and also, some of Nashville's best songwriters. What was the experience like?
JM: My producer was a Grammy award winner (did not write with anyone for my latest album, these are all self-written songs). To work with studio musicians and producers who have worked on the records of the likes of Faith Hill and Reba McEntire was incredible. I don't think I have ever seen anything done more efficiently. I had my songs recorded acoustically, and they took those songs and turned them into a great country sound.
CTD: What were the things that you have learned from them that you could apply to be successful in this industry?
JM: I learned that it takes hard work to achieve greatness. None of these musicians or producers were handed anything, as they had been working at music from their twenties or earlier. Each of them also had a goal and stuck to the plan.
CTD: All musicians have a message or a common theme in their song. What do you wish people could learn from the songs that you have released and the other tracks you will be releasing in the future?
JM: I hope people can learn that country music is the last voice we have as a culture. There are some other genres that can get the message out, but only country music can use just an acoustic guitar and powerful words to get to the soul of its audience. I want to make people feel something. I had a great fiddle player on one of my songs called "Love Endures."
That instrument made the song. This song has a message, and the title speaks for itself. It is about holding onto the love you have for someone, even though circumstances and time can break down the bond. I hope it resonates with someone somewhere who is getting married or who is looking for some hope in their relationship.
My other songs such as "American Heart" touch on the hope that I feel still exists in us as citizens and non-citizens in this country. There has been a lot of hate, division, and negativity, and I hope the message of the song resonates hope.
CTD: You have upcoming shows at Portland and Uncasville, Connecticut. What can your fans expect from your show?
JM: (Portland has been canceled, just Massachusetts show, and Mohegan Sun) The show at The Flat Penny in Berlin, Massachusetts (September 28th) will be an acoustic set previewing new songs I have written with my co-writers in Nashville. These are unreleased songs and I am hoping to test them out to a country, New England audience prior to recording them next year. The venue is an old train station converted so this should make for some interesting scenery!
The show at Comix, Mohegan Sun Uncasville, CT (December 13th) will be a full band set with NYC musicians I worked with for festivals this year. While they aren't Nashville players per se, some of these guys play on Broadway. I will be performing 3 (45) minute sets of country music, my originals, and some Christmas songs since it is December 13th.
Jenny Leigh Miller only started releasing her songs this year and there will be more to come. She shared that she wants to write a song that people can easily relate and she was able to accomplish that with her song "Driving with the Top Down," and "American Heart." Make sure to go check her out on her upcoming tours!
Here is Jenny Leigh Miller's exclusive video premiere of "American Heart"
---
---