There are a lot of rising country stars today and one of them is Ashley Puckett, who wants to put her name in the country scene. Just like the biggest stars in country music, Ashley wants to be recognized with her hit singles.
Some of Ashley Puckett's musical inspirations are Le Ann Womack, Carrie Underwood, Miranda Lambert, Jo Dee Messina, Carol King, and LeAnn Rimes. She realized her passion for music at an early age. Therefore, at the age of 16 she started playing guitar and writing her own songs.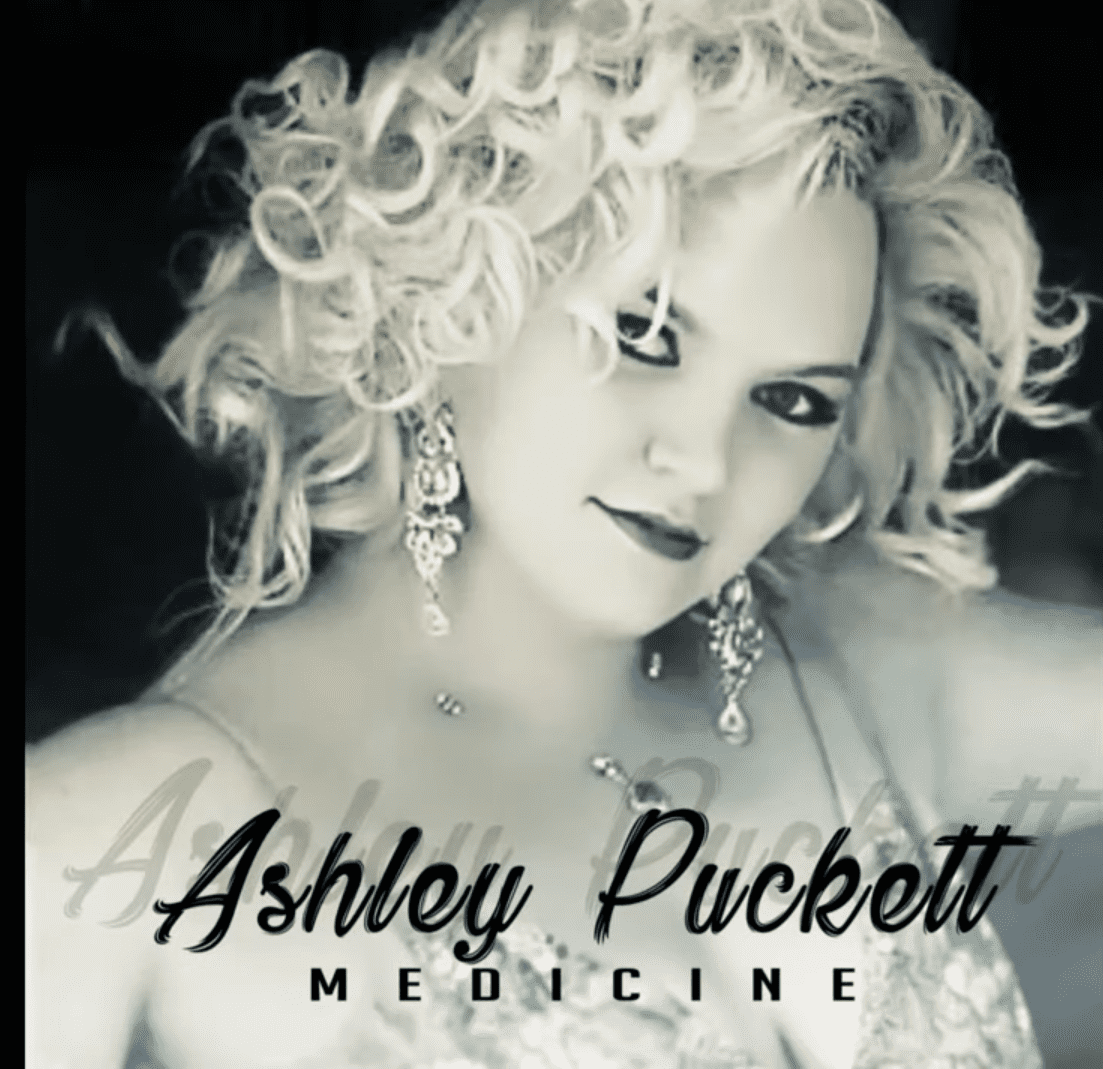 Back on September 3, 2019, she released her first single entitled "Medicine." Of course, being a first-timer brings a lot of pressure but with the help of others, the song became spectacular. Ashley shared her inspiration upon working with this song.
"I've never given up on where I wanted to be (in the music industry), however, when life pulls you in so many different directions, it sometimes takes you off-guard, and it becomes very easy to lose sight," says Ashley. "I believe everything happens for a reason, and although I feel I'm always at the wrong place at the wrong time, somehow that led me to the right place at the right time, to say 'It's now or never' after meeting Bryan and Doug. The energy the three of us have, working together, and their dedication is so exciting…I know this is just the beginning of something spectacular."
Here at the Country Thang Daily, we were able to get an exclusive interview with our beautiful rising star, Ashley Puckett. We asked her different questions and her answers really are stunning.
Read the interview we had below:
Country Thang Daily: At an early age, were you already exposed to performing in front of a big audience? Can you tell us about your experience with this?
Ashley Puckett: Growing up, the audiences I'd perform for were usually smaller, however, the more I play now the bigger they tend to get.

CTD: You have shared an inspirational message in your debut song "Medicine." What inspired you behind those words?
AP: I chose this song because it was a very simple, romantic song.  The first time I heard the song, It made me think about the times in life, good and bad when you want someone or need someone there for you.  I've been blessed to have an inspirational man in my life that stands beside me and all of my journeys.
When you need to talk or to just be in someone's presence to feel "okay again" , that's the feeling I have when I perform this song and remember that I have someone to always be my weakness. 
CTD: Is there a song on your upcoming album that stands out as your personal favorite? If yes, which one and why?
AP: Never Say Never is the song I'd say stands out the most.  It's incredibly beautiful, the mix is perfect, the lyrics are so very well written.  The song reminded me of a personal favorite from Jo Dee Messina and when I heard the song halfway through, I knew it would be a song I had to record. 

CTD: Being one of the rising stars today, how do you deal with country fans and music critics' speculations, opinions, and comments towards your music?
AP: Not everyone will like what I do, and I'm okay with that.  I know that there are artists out there that I don't tend to listen to but respect as an artist, and I know there's others out there that look at me the same way.  There are all kinds of kinds out there, and if we were all the same and all liked the same stuff, the world would be boring. I just hope I bring something to most of those who listen at least. 

CTD: What are the things you have learned from the people you have worked with in your debut single?
AP: So much!  A lot about recording and the process in studio being that this is my debut and first album.  I've found "my sound" as I call it, too. I've always had my own style and always knew country was my direction, but throughout the past year or so I was really able to put all of my musical influences together, try some different things, and really "be myself" and it was a really rewarding experience.  Hard work really does pay off.  
CTD: How do these lessons apply to have a successful song in the industry?
AP: In order to be successful, you definitely have to have something unique and different to bring to the table or else you just sound like everyone else, and if that's the case, there's usually nothing that makes you stand out so eventually you fall through the cracks of all the other talent out there.
Getting noticed in the industry takes time, and lots of work. I know you have to start by being yourself and relatable – and likeable… that's what I wanted to do.

CTD: All music artists have a message or a common theme in their song. For you, what do you wish people could learn from the song that you have recently released and for the other tracks that you will be releasing in the future?
AP: The first single, Medicine, it's a sweet romantic song that expresses love for that one person in your life that is your "medicine" or your "go to " person to make things better again.  It's okay to have a weakness and I think it's also important to hear the song and think about who you inspire and who you have the ability to influence. We can all make the world a little brighter by being someone else's rock.  
The rest of the album is full of a lot of love songs, fun songs, done me wrong songs.  I just want people to get to know me on this first album and who I am as a person and an artist. 
Ashley Puckett doesn't only have a beautiful face but also has a beautiful personality. Thank you for sharing a great inspiration, Ashley! We wish you all the best in life. Continue giving inspiration to others. We look forward to your future singles and albums.
Here is Ashley Puckett's First Single "Medicine:"
---
---