Old Dominion is heading up north for their tour! Canada will have a string of We Are Old Dominion Tour dates on December of 2019 throughout early 2020.
The boys dropped the news on their official Twitter account on Monday, the 9th of September. They also revealed that Mitchell Tenpenny and Meghan Patrick will also be tagging along for the upcoming Canadian leg.
By the time the boys will be back on the road for their 2020 We are Old Dominion Tour, they will already have a new album under their belt. It's going to be their self-titled project slated to be released on the 25th of October.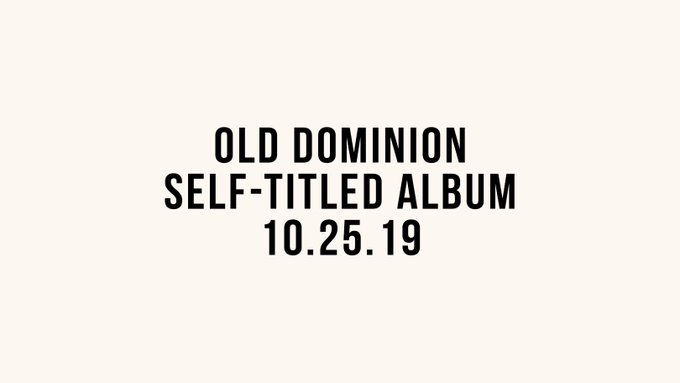 The self-titled project will arrive just over two years after the release of their second album, entitled Happy Endings, which dropped back in August of 2017.
In early September, they resume their Make It Sweet Tour, which includes a brief European run as well as gigs in Charlotte, North Carolina; Columbia, Maryland; and Tulsa, Oklahoma. The trek currently has dates scheduled through early January 2020, when they'll play a pair of shows in Hawaii. In fact, some dates on each tour will overlap each other.
Tickets for 2020 We Are Old Dominion Tour goes on the market on Friday, the 13th of September at 10 AM, but pre-sale for the group's fanbase begins on Tuesday, the 10th of September. For more information, you can visit Old Dominion's Official website.
2020 We Are Old Dominion Tour Dates:
Dec. 12 — Niagara Falls, Ontario, Canada*
Dec. 13 — Niagara Falls, Ontario, Canada*
Feb. 7 — Abbotsford, British Columbia, Canada
Feb. 8 — Penticton, British Columbia, Canada
Feb. 10 — Prince George, British Columbia, Canada
Feb. 11 — Dawson Creek, British Columbia, Canada
Feb. 13 — Saskatoon, Saskatchewan, Canada
Feb. 14 — Calgary, Alberta, Canada
Feb. 15 — Regina, Saskatchewan, Canada
Feb. 20 — Kingston, Ontario, Canada
Feb. 21 — Toronto, Ontario, Canada
Feb. 22 — Sudbury, Ontario, Canada
Feb. 24 — Kitchener, Ontario, Canada
Feb. 25 — Peterborough, Ontario, Canada
*An Evening With Old Dominion: The Band Behind the Curtain
---
---