We love country music artists as much as anyone, but we're also all about supporting up-and-coming talent. Over the past few years, we've seen stars making their way from an underground fan base to worldwide recognition.
This year is no different, there are plenty of other emerging artists that we have on our 2020 radar. Look ahead to our complete list of the top rising country artists this year.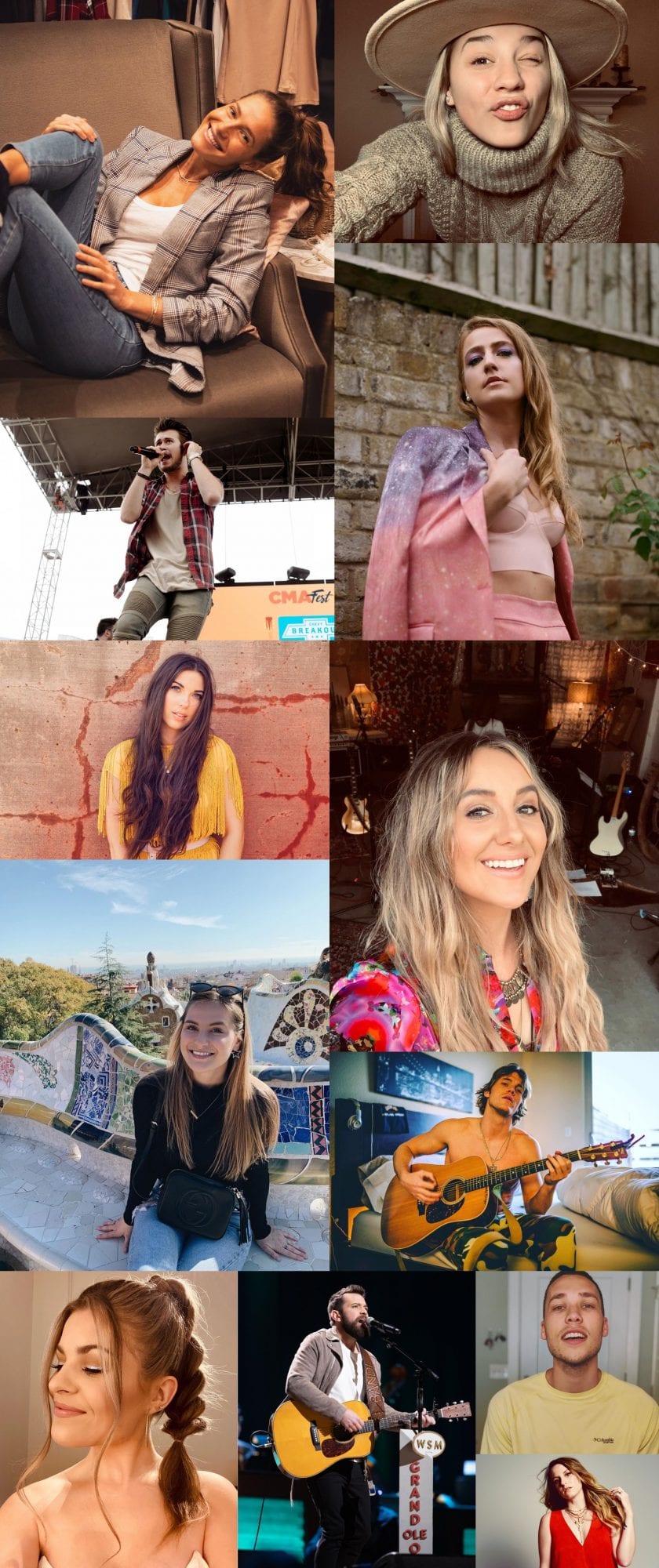 1. Ingrid Andress
If you will take a quick look at Ingrid Andress's already impressive resume, you will know that this singer-songwriter is more than capable of working her magic in the music industry. Andress has already penned songs with noted pop idols Bebe Rexha and Charli XCX, among others.
The Denver native attended the prestigious Berklee College of Music in Boston and Songwriter Kara DioGuardi, who wrote Kelly Clarkson's "Walk Away," Carrie Underwood's "Undo It, is just one of her songwriting professors.
Well, this year's definitely going to be a big year for Andress as she released her debut album, Lady Like. The album is composed of songs that are remarkably cohesive and will leave you feeling somehow stronger and more empowered than before you listened to them.
"Most songs either talk about being super in love or not in love anymore, and there's never an in-between. I think being 'in-between' is normal and people should feel okay admitting that love isn't this super warm feeling you have all the time with someone," Andress told TeenVogue.
Andress has already received the nomination of New Female Artist of the Year for the 2020 Academy of Country Music Awards. In 2019, Andress made history too by being the only solo-female- debut artist to be in the top 20 of the Country AirPlay Charts.
In addition to that, Andress' "More Hearts Than Mine" officially entered the Top 5 on this week's Mediabase country radio singles chart, along with Blake Shelton and Gwen Stefani's "Nobody But You".
Andress hopes that her listeners will feel understood and not alone in their feelings, or inspired to view things in a different light. She said, "I think we're entering a time where we feel more separated from one another than we do unified, and I hope my music reminds people that we're all more alike than we think, no matter where we are in the world. We all have stories that need to be heard."
2. Caitlyn Smith
Justs like so many Nashville musicians, Caitlyn Smith has made a great career out of writing for others— John Legend, Cassadee Pope, Dolly Parton, and Meghan Trainor, among others. But Smith shines the most every time she sings her own music.
After her critically-acclaimed 2018 debut album "Starfire", the rising country artist is back with her new "Supernova". Smith's second studio album has been released last March 13, debuts on the Top Album Sales chart at No. 92 with 1,000 copies sold, according to Nielsen Music/MRC Data.
"Supernova" is a remarkable collection of creative, thoughtful songs that feature Smith's soulful, expressive vocals, colorful melodies, and modern, extensive production. The title cut "Supernova" is the album's main highlight, with its beautiful, poignant music arrangement and warm vocal performance by Smith.
While her powerful single and album opener "Long Time Coming" stands at No. 37 on the Adult Alternative Songs airplay chart in its third charting week. The song is her first career entry on one of Billboard's song charts. While many people would think "Long Time Coming" is about heartbreak, Smith sees it as a "little anthem of hope to myself".
"In the verses, it talks about dealing with anxiety and look at the mirror and looking at yourself and parts of you that you're not so happy with," Smith said. "And the chorus goes onto to say, 'You know it's been a while that I've dealt with this, but I'm gonna be OK. We're going to make it through this.'"
Other notable songs from her new album are the single "Put Me Back Together," "Damn You For Breaking My Heart" and "Fly Again."
3. Chris Bandi
This young new artist is hot and making his way on the country scene. The 27-year-old Nashville-based, Chris Bandi, has released a few singles including "Man Enough Now", "Gone Girl", and "Rain Man."
"Man Enough Now" is his debut single with the New York-based RECORDS and Nashville-based Wide Open. The song is a quick peek into his youthful romantic history, realizing too late that he let a good relationship go when he was too immature to admit that he was immature.
"I was thinking about an ex-girlfriend and whether or not we would last if had we met that day [we were writing]," Brandi said. "When I was in college, I was a dumb 21-year-old and made mistakes — as young, dumb 21-year-olds do. I think I was 25 or 24 when I wrote this song, and I hadn't matured that much. But I feel like I'd matured enough to really be able to not make those mistakes again."
At a very young age, Bandi already knew that he wanted to be a part of the music industry and he never let anyone get in the way of his dream. His style of country, R&B, pop, and rock are influenced by the music he listened to growing up around his parents. The mix of artists like Garth Brooks, Michael Jackson, Prince, Randy Travis, and Cat Stevens played a huge role in his childhood as well as in his music career today.
The singer recently inked a deal with RECORDS, a joint venture label between Barry Weiss and Sony Music Entertainment. And last February 28, he reached another incredible milestone when he made his long-awaited Grand Ole Opry debut.
"Growing up listening to country music, The Grand Ole Opry was always the pinnacle of where this crazy dream could take me," Bandi said in a statement. "Seeing all of the people I idolized growing up who have played here and have later gone on to become members, you step back and see how much history there is here. To have the opportunity to walk out on that stage is something I will never take for granted and have been looking forward to for many, many years!"
Well, it will not take long for folks to realize that this guy right here has a knack for singing and storytelling.
4. Caroline Jones
Country newcomer Caroline Jones has one of those voices that makes her sound like she's not a newcomer at all. It sounds more like she's been at this for a while. Well, there's no doubt to that since this Nashville-based singer-songwriter lives and breathes music.
She has been mentored by some of the country's biggest names including Jimmy Buffett, Kenny Chesney, and Zac Brown, with whom she co-wrote her new single "All of the Boys" and has joined on tour for the past three years.
The recognition keeps coming for the new artist. Her latest EP, "Chasin' Me" was produced by Ric Wake who's worked with Mariah Carey, Celine Dion, and Whitney Houston. She already has multiple performances at the iconic Grand Ole Opry and in August 2019, she made her late-night debut on The Tonight Show Starring Jimmy Fallon.
Her new single "All of the Boys", which is a rock-country configuration that showcases Jones' musical chops as much as her charming personality, has been released across various digital platforms for purchase and streaming last March 27.
Jones' signature country-pop sound is definitely something to look forward to.
5. Parker McCollum
Parker McCollum, an up-and-coming country music singer from Austin, Texas, is the next big name you should watch out for. He has a sound that is thoroughly Texas country, inspired by some of the region's most iconic artists, like Townes Van Zandt and Willie Nelson.
In June of 2019, McCollum signed his first major-label deal with Universal Music Group, and then released his popular single "Pretty Heart."
"I'm the one who dropped the ball, got you high and let you fall," McCollum sings over a slow-burning beat and solemn melody, reflecting on what he did wrong in a past relationship. He then transitioned into a wonderfully melancholic chorus, lamenting over and coming to terms with the fact that he broke someone's heart. The music really showcases McCollum's sharp songwriting and storytelling that stands out.
"Pretty Heart" was co-written by McCollum and Randy Montana and was produced by Jon Randall, a GRAMMY-winning producer and multi-platinum songwriter who's worked with Miranda Lambert, Dierks Bentley, and Brad Paisley.
"'Pretty Heart' is for everyone who has ever come out to support us on the road, listened to and shared my music. All I have ever wanted is to write Country songs and sing Country music, and I'm excited for the opportunity to expose even more folks to my music," McCollum said.
6. Brandon Ratcliff
Music runs in the family for newcomer Brandon Ratcliff. He grew up being surrounded by fantastic musical influences, including his mother and others from his ancestral tree, in Cotton Valley. He is the son of Suzanne Cox, the singer-mandolinist of the legendary and Grammy Award-winning bluegrass group The Cox Family.
He was raised listening to greats like Merle Haggard and Ricky Skaggs, but his mother has also exposed him to other genres that have molded him to today.
"All of that was always there, but she wanted me to have an appreciation for all music, everything from AC/DC to Led Zeppelin to Fleetwood Mac to Stevie Wonder," Ratcliff said. "I feel like I got a real good music education, in general, spanning all genres. The ones that always really stuck out to me were the soulful things—the blues world, the R&B world."
Now, Ratcliff embarks a new journey as a solo artist. He is the talent for three new singles, "Rules of Breaking Up," "See Me Like This," and "Slow Down Hometown" produced by the Grammy Award-winning Shane McAnally. "Rules of Breaking Up" has garnered more than 40 million streams and landed him on the Spotify Viral Chart in the United States and Canada.
In addition to the single releases, the songwriter is rolling out the songs from a standalone project called "Uncovered." The "Uncovered" project is a series of cover songs that will give you a quick look at his musical foundation. This will show you who Ratcliff is as an artist and you'll get to know a few inspirations that have helped shape his sound.
7. Gabby Barrett
After spending several weeks atop the Billboard Emerging Artists Chart, Gabby Barrett's "I Hope" becomes the first debut single by a woman to top Billboard's Country Streaming Songs chart, as it rises from No. 4 to No. 1.
The song, which Barrett wrote with Zachary Kale and Jon Nite, climbs with a 7% increase to 9 million U.S. streams. She also released two new songs since then and it's already being poised to be a breakout single of 2020.
If Barrett's looks familiar to you, then this is probably because you've seen her finish third-place on American Idol in 2018. She's a shining example that one does not need to win the competition in order to be successful in the music industry.
"I've been singing six or seven years before I did American Idol. There were so much trial and error in those years that I'd been used to hearing no and being eliminated from things. So American Idol was another no for me," Barret said.
"My family kept me very motivated as well as I'd been a very dedicated person. I've always liked to be challenged at a very young age. It just fuels me to keep going when you hear no. Being on Idol, there are valuable lessons that I learned. Getting eliminated wasn't something I'd get mad about."
8. Madison Kozak
Rising star Madison Kozak is absolutely one of the best new country artists 2020 has to offer. She will be on the road this year with American country music singer Tanya, opening her first of four shows.
Born and raised in Canada and now living in Nashville, Kozak grew up listening to very classic country music. She used to be a star-struck little kid sitting in the 10th row of the Grand Ole Opry singing along with country music idol Loretta Lynn as she belted out Coal Miner's Daughter.
"'Delta Dawn' was a song I sang over and over again at fairs and festivals back home in Ontario," Kozak said. "So getting to open for an artist like Tanya is such a dream, something I never thought would be possible. I'm also heading out on the road with Willie Nelson this spring. I'm so pumped to be carrying the torch of traditional country that needs to be heard and represented in 2020."
And finally, in October 2019, she made her debut on the Grand Ole Opry. She performed "First Last Name" to a standing ovation. "It was so spiritual and unforgettable," said Kozak, who was joined by about 50 family members, friends, and fans. "Walking out on stage, where all my heroes had stood before me … It was like coming home."
9. Dylan Schneider
Rising star Dylan Schneider is bringing fresh country sound, no wonder why he has been hailed as "Country Music's Next Rising Star" by Billboard. He also made his Grand Ole Opry debut in November 2019 and performed tracks like "Hometown Heartless" and "How To Country" from his EP Whole Town Talk. The evening was made even more special for the rising singer-songwriter, as it took place at the Opry's original home – Nashville's Ryman Auditorium.
"I've passed the Ryman Auditorium a million times in the past few years, and I always told myself I wouldn't set foot in the building until I was there to play that stage. So for my Opry debut to be in its original Ryman home was an incredible honor and one I'll never forget," said Schneider said.
His EP Whole Town Talk garnered praise among fans, the singer even earned early support from Florida Georgia Line's Tyler Hubbard and Brian Kelley and their new record label, Round Here Records.
10. Jenny Tolman
It's been just about six months since Jenny Tolman released her debut album, "There Goes the Neighborhood", and the rising country star admits that her fans' reactions to the music have exceeded her expectations.
"Oh my gosh. 'Whirlwind' has been the big word for me," Tolman expressed in her interview. "Really. I've just been touring all over the place … I think we've counted up, like, 25 different cities that we've been to in the past month or two months, so it's just been quite the whirlwind."
Her hit song from this album, "So Pretty", has the country magic every country song lovers will enjoy. The song faces with jealously, weakness and love, and with hoping for one thing at the same time knowing the next step in your journey will be totally something else. It is thoughtful, beautiful and just so real
Tolman said, "I've always loved songs that have a woman-to-woman narrative. It's one of the most incredible connections you can sing about because the female energy is such an emotional powerhouse. Acknowledging our insecurities gives us so much power because then you can step into them and turn them around."
11. Lainey Wilson
Lainey Wilson grew up with a father who plays the guitar and a mother who enjoys dancing. Moving into the older generations, Wilson also used to attend nearby bluegrass festivals with her grandparents.
She explained, "I'm a proud Louisianan, and always will be, but from a very early age I've had stars in my eyes for the glitz and glamour of Hollywood and I'd like to think that little twinkle helped propel me toward following my dreams and continues to keep me reaching further."
Now, she has been paving a path in country music that's all her own. The Nashville singer-songwriter is now catching everyone's attention with her single "WWDD" (short for "What Would Dolly Do"). It is written by Wilson herself along with Casey Beathard and Michael Heeney It features an upbeat anthem with grungy electric guitars.
"If we all did it a little more like Dolly, we'd be lookin' at a world with a little less rain and a lot more rainbows," Wilson said. "She's an icon around the world for a reason — from her music to the way she gives, to her business sense, to the way she looks, to her lighthearted witty sense of humor — no one does it quite like Dolly does."
12. Tenille Arts
If you're a fan of "The Bachelor, then Tenille Arts might be familiar to you. This is because she has multiple appearances performing in this American TV series. The show gave her the opportunity to share her music with people who might not be familiar with her.
"That show has been incredible for my career. There have been millions of people that have been exposed to my music because of it. It's crazy when you perform on the show, the next day it's like your song is number one on iTunes, it's streaming everywhere, it's added to playlists. It's just insane the amount of exposure that show can give," the singer said about her recent appearances in the show.
"I would have never thought that The Bachelor would be the way that I would get my music out there, but it is the perfect audience for country music. It's the perfect age and they love stories, they love the storytelling side of things, so many of them are country music fans. It's a really great platform."' She performed the song "Somebody Like That." It's the latest single from her new album "Love, Heartbreak, & Everything in Between". The long song perfectly fits with the show's premise
However, the 25-year old singer-songwriter from Canada has had more opportunities than most to showcase her music on a national level. She sang the Canadian National Anthem at this year's NBA All-star Game in Chicago and she performed at last year's New York Fashion Week.
There you have it, the top 12 new country artists 2020 has to offer. So make sure you keep your playlist full of country's brightest new performers.
---
Brandon Ratcliff, Caitlyn Smith, Caroline Jones, Chris Bandi, Dylan Schneider, Gabby Barrett, Ingrid Andress, Jenny Tolman, Lainey Wilson, Madison Kozak, Parker McCollum, Tenille Arts
---