Did someone ever called you "My Love?" Honestly, people are so attentive when it comes to love even I am one of them. Love is an experience that everyone expects. Some might have a love for the family, friends, neighbors, or a special someone. Have you noticed something in you when you are in love? You really talk a lot. You get to share some stories or even happy memories with your lover. But, did you know that before loving someone, you must first know how to handle your anger or feelings because if you cannot handle that, how much more about handling a relationship?
"My Love"
It is a classic love song written by Porter Howell, Brady Seals, and Tommy Barnes. The American country music band Little Texas popularized the song. It was then released in January 1994 as a single from their album, Big Time. Upon the release of the song, it peaked at number 1 on the Billboard country singles charts. Furthermore, the song "My Love" is a remarkable song for the band that became the only single to hit number 1 on the country chart.
Little Texas' album, Big Time, was the group's second album released under Warner Records. It has produced 4 hit singles that entered into the Hot Country Songs chart. The country hit singles were "What Might Have Been," "God Blessed Texas," "My Love, " and "Stop on a Dime." Further, it became the band's highest certified album having a 2 times Platinum by the RIAA.
About the Song
Girl, I've heard it said
that love is good for the soul
I see the hunger in your eyes
Burning out of control
My love is overflowing from a loving cup
Girl, I know you're down
but love will lift you up.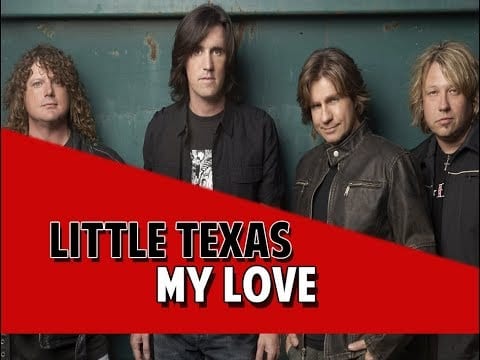 The song "My Love" talks about the narrator who asked if his lover was already ready for commitment. When we talked about the commitment, it has something to do with being faithful and loyal with our lover. We must always treasure the love given by someone because not everyone is lucky enough to have one.
Listen to the song "My Love" by Little Texas:
---
---