Usually exclusive for husbands and wives, Lee Brice's wife, Sara, gave husband a memorable wedding anniversary gift. She brought along their two boys to watch Brice's concert in Indiana.
Brice was in the middle of singing his single, "Boy" when his two sons went up the stage and hugged his legs. The sweet gesture stopped him from singing and he knelt down to hug his boys. His face had amazement written all over it. Brice, nonetheless quickly recovered and introduced his kids to the crowd who were just as pleased as the singer.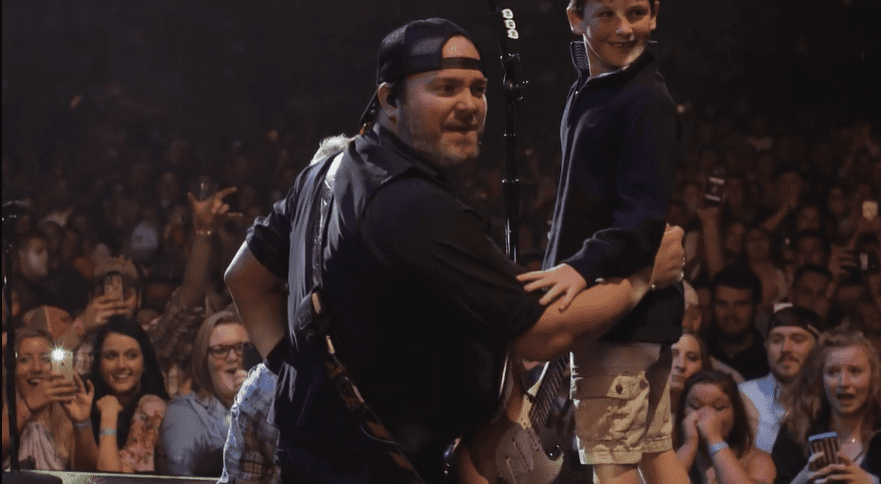 The older brother, Takoda, told his dad that their mama wanted to surprise him. Sarah, Brice's wife, did not show herself, and the singer knew why.
"My wife, she ain't coming out here. I guarantee you. I know her."
Takoda shyly smiled while daddy continued singing. Ryker, Brice's younger son, clearly loved the stage and the attention. He gave high fives to the fans and at one point, signaled his dad that he also wanted to sing through the mic.
After singing a few more lines, Brice told them to go back to their mama. Still having fun and enjoying the spotlight, Ryker did not want to leave the stage. He ran back to hug his dad while Takoda stood to wait for his younger brother. In between laughs, Brice said that the next song will be about girls, and the boys would not want to be there.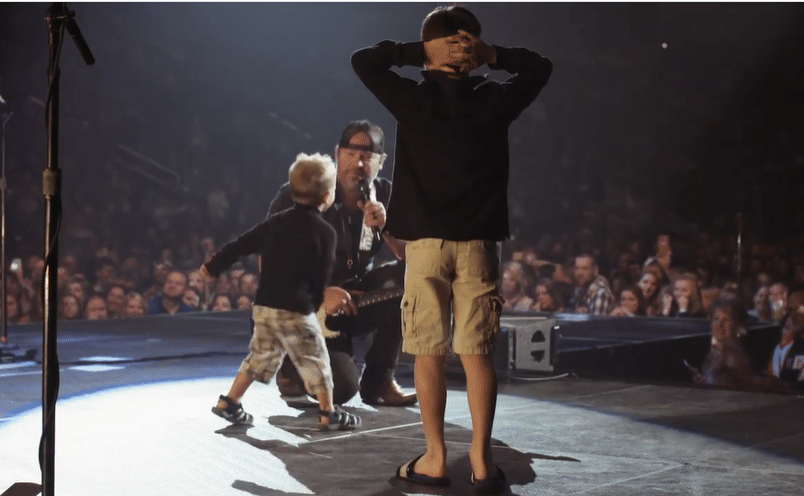 Watch the rest of their cute moments here.
Lee Brice loved what his boys did on stage so he proudly shared a video clip on Instagram. He sweetly captioned it complimenting his wife, Sara.
"What a perfect gift having my boys surprise me on stage last night. Happy anniversary my love! 'Boy' coming soon."
He also had it posted on Facebook and YouTube. Unlike his Instagram caption for his wife, Brice expressed his pride as a dad on Facebook.
What a week! There's nothing like bringing a new life into this world… This song is a tribute to them. I'm so proud to be their dad.
While Lee Brice's then newest single, "Boy" was on its way to be officially released, he and wife Sara were also expecting their third child. Brice revealed to his fans that a baby girl will soon join the boys' pack.
Lee Brice and His Single, "Boy"
Jon Nite's songwriter partner Nicolle Galyon was also expecting a baby boy. Before going on a maternity leave, Nite suggested that they write a song about it. Penned from the perspective of a father giving his a son the man talk, the song was also perfect for country singer Lee Brice who already has two sons. Brice recorded "Boy" and had it released on June 19, 2017, under his 4th and self-titled studio album.
The track was Brice's favorite and he would sing it live on tours. "Boy" reminds him of the time when his own dad tried his best to teach him life lessons so that he wouldn't need to learn them the hard way. Now that he's also a dad raising two boys, Brice finally understood how his father's intent.
So now I'm trying to teach my kids, and they aren't listening to me. They don't know that I'm trying to help – [that] it's all about them. So the connection between my daddy and myself, and now myself and my sons, that is what makes 'Boy,' the song, so special.
Fans, in response, would also hold up pictures of their children each time Brice sings "Boy." Thinking about the people he'd talk to who tragically lost their children, Brice could not help but breakdown whenever he performs "Boy."
Between 2017 and 2018, Lee Brice's single appeared on charts. It peaked at no. 14 on the Hot Country Songs, no. 16 on Country Airplay, and no. 94 on Billboard Hot 100.
Watch the full version of Lee Brice's hit, "Boy"
---
---