Meet Jerry Ott from Eugene, Oregon.
From Billy Polard's TV program, "Strolling Down Memory Lane," Ott impersonated Walter Brennan and delivered an impressive imitation of "Old Rivers."
I know what you're thinking. Is he lip syncing or something? Who would have thought that someone in our time could get close to sounding like Walter Brennan? Nonetheless, Mr. Ott did an awesome job not just in mimicking Brennan's voice, but in channeling his sprit as well.
Country Recall on "Old Rivers"
Popularized by Walter Brennan in the early '60s, "Old Rivers" is an oldie favorite as recorded in The Billboard Book of Top 40 Country Hits: 1944-2006. Two months after its release in March 1962, "Old Rivers" peaked at #3 on U.S. Billboard Hot Country Singles, #5 on Billboard Hot 100, and #2 on Billboard Easy Listening.
Brennan's talking song version was backed by The Johnny Mann Singers who, like Brennan, were Grammy Award recipients. Besides the moving content, Brennan's delivery was a match. A prolific actor that he is, Brennan's shaky voice at the end of the track pulled many heartstrings.
Other notable recordings were done by Jimmy Dean (October 1968), Dave Dudley (1965) and Red Sovine (1995).
Bits About Today's Featured Artist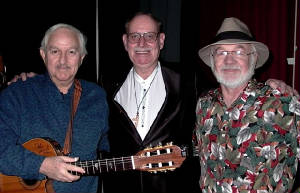 Jerry Ott is an itinerant Gospel Country singer who calls himself, "The Glory Road Traveler." Prior to going solo, Ott's a busy man with a quartet in Oklahoma who performed five to six nights a week. In 1974, he relocated in Oregon where he sang solo in small churches. Through the years, Ott partnered and worked with various singers including Don Norris, The Arrangers Trio and Frank Walden who used to work for Chet Atkins.

Ott said that his life mission is to see souls saved and the name of Christ lifted up as he glorifies His name.
---
Jerry Ott, Walter Brennan
---