W.B. and The Geezers is definitely an eclectic country band that is filled with different kinds of influences! They're fun and fresh. Something that mainstream country music often misses the mark in.
The band's sound is both a mix of traditional tunes with a vastly youthful vibe. The duo is experiencing their second childhood with their making and recording of new music. And, they encourage everybody to:
'Embrace your geezerdom!'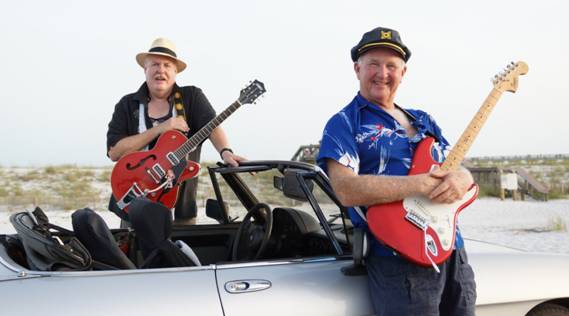 Their newest EP is a homage to that, encouraging everybody to hear their music.
Embracing Geezerdom with W.B and the Geezers
Capt. Bill Crouch spent his early professional career as a sound engineer, working with artists including Ike and Tina Turner, Bob Hope, and bands such as James Gang and Brownsville Station.
Bill worked on computers before becoming a private yacht captain, where he began playing guitar again for the passengers, singing Island music and creating his own songs, influenced by Jimmy Buffett, Bob Marley, and Kenny Chesney.
In 2009, forty years after leaving the industry, Bill became a sound engineer. Again, producing music for his own shows and in 2012, met William.
Capt. Will, a Merchant Mariner, born in Houston, Texas, became a world traveler at a young age; making his first Trans-Atlantic crossing at just one and a half years old. After leaving college, he took a job on a Freighter, traveling to Egypt, and in 1982 became a licensed officer, documenting his travels writing poetry, inspired by an English Professor.
From the ridiculous ED commercials and senior dating to the effects of the wars of our past. They boast about their amazing songwriting, and will surely give you a breathtaking experience and heart – something that's being lost in more mainstream artists.
Their newest EP, Embrace Your Geezerdom will be released November!
Make your day a little bit more country by following us at our official Facebook page!
---
---