A man and his brother from Hixson, TN have been stockpiling hand sanitizers and anti-bacterial wipes to resell it 20 times their original selling prices.
Matt and Noah Colvin bought 18,000 bottles of hand sanitizers to resell at amazon and e-bay for an inflated price. Soon after receiving tremendous backlash online, the brothers decided to donate them.
Matt said during an interview that this pandemic should have been their great opportunity. The brothers eventually were called out by the state attorney general in Tennessee to stop buying and selling medical goods.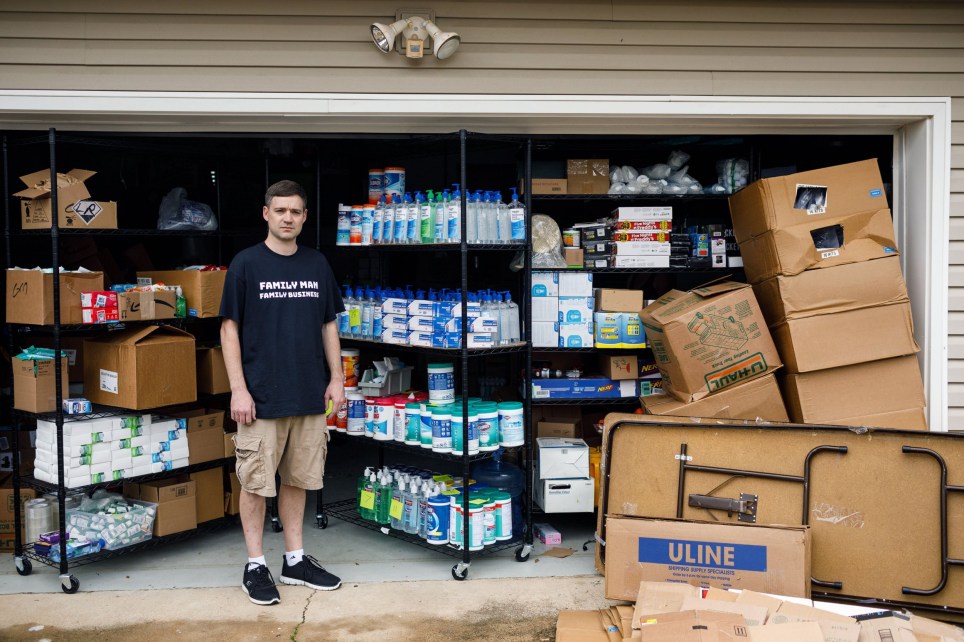 The Hoard
On March 1, 2020, the day that the United States of America recorded the first death caused by the coronavirus. The Colvin brothers recognized this as an "opportunity" to make money. They set out in an S.U.V., clearing the shelves of every store they went too.
Times reported on Sunday that for the next three days, Noah Colvin took a 1,300-mile road trip across Tennessee and into Kentucky, filling up a U-Haul truck with his purchase of hand sanitizers and thousands of packs of antibacterial wipes.
Noah told reporters that they purchased the goods mostly from 'little-hole-in-the-wall dollar stores in the backwoods.' Clearing out stores in Tennessee and Kentucky, the brothers held the products in a storage unit in Hixson, Tennessee.
The Colvin brothers then tried to sell their goods online with prices that ranged from $8 – $70 each. While Noah was doing the mass buying, Matt Colvin stayed at home near Chattanooga, preparing their listings for Amazon.
Matt said that the 300 bottles of hand sanitizers that he posted were sold in no time. The following day, Amazon pulled out the brothers' items along with the thousands of re-sellers of face masks, hand sanitizers and wipes. Amazon suspended some of the sellers and warned others that their account would be suspended if they won't regulate their pricings.
eBay would soon follow and applied strict measures that include prohibiting any U.S. sales of masks or sanitizer. People across America are searching for hand sanitizers to protect themselves and their families from the continuous rise of the Coronavirus.
Matt and Noah Colvin now have 17,700 bottles of sanitizers in possession, but clueless on how they would sell them. Matt Colvin said in an interview that with the demand for such goods and their inflated prices, they would make crazy money out of it. He later added that he never thought of making headlines after hoarding thousands of bottles of hand sanitizers for re-sale.
Selfishness Ought to be Called Out
The Attorney General of Tennessee and Kentucky's AG worked together to deal with this case. Attorney General Daniel Cameroon said that a pandemic shouldn't be a time where people become opportunists. He added that they would not tolerate such actions.
The Colvin brothers have decided to donate the remaining bottles to a local church and to the first responders of the disease. This trend has been a custom for sellers which they call "retail arbitrage," a 21st-century career of buying up things that were needed or wanted in the society.
In recent weeks, the seller's biggest exploit could have become rampant. As Amazon's most recent search history reveals that crowds are searching for things like, "Purell," "N-95 mask," and "Clorox wipes," sellers immediately recognized the opportunity and immediately acted on it.
They began stocking up supplies to be sold at outrageous prices. For several weeks, prices for goods such as sanitizers, masks, and wipes had a tremendous spike in their selling prices. This strategy soon came to a halt as responsible companies like Amazon and eBay took action. The prices had significantly dropped.
---
---