Willie Nelson and Annie D'Angelo's love story took a long and winding road with a lot of detours on the way. But as we all know, true love stays through thick and thin, and they did so for 30 years and counting. Now, the couple spends most of their time at their ranch in Spicewood, Texas, or at their quiet, cozy home in Maui, Hawaii. And Annie is making sure that the country singer is in his best health by encouraging him to be more involved in different physical activities with her.
So, how exactly did these two end up together? Let's dig a bit into their three-decade-long love story and see.
First Chapter: Fourth Time's The Charm
RELATED: Sweeter the Fourth Time Around: On Willie Nelson's Spouse Annie D'Angelo
Willie Nelson has always been a controversial character who is never shy to stand for himself, for his music, and for what he believes in. And his love life was no less controversial. 
At 19, just fresh out of the Air Force, he married his first wife, Martha Matthews. But their marriage started out young and volatile and eventually ended after 10 years with Matthews infamously tying up Nelson with their kids before beating the hell out of him. But even though his first marriage ended on a tragic note, Nelson said "I do" again, this time to rockabilly singer Shirley Collie. Just like the first, it didn't end well after Collie found out that he had been cheating with Connie Koepke. And as they say, the third time should be the charm, but apparently, it wasn't for Nelson. He married Connie, but his unfaithfulness messed up his marriage again.
And after three failed marriages, he finally found happiness with his fourth wife, Annie D'Angelo. And this time, it was for good. The two met on the set of the 1986 film Stagecoach and Nelson confessed in his 2020 memoir 'Me and Sister Bobbie: True Tales of the Family Band' that he fell head over heels in love with her, saying that he had never met a woman like her before.
But although his love for her was all-consuming, Nelson said that winning her over wasn't easy. She had to be sure that his marriage was really over and that he was truly free. That was the only time that she agreed to be with him.
Second Chapter: The Greatest Love Story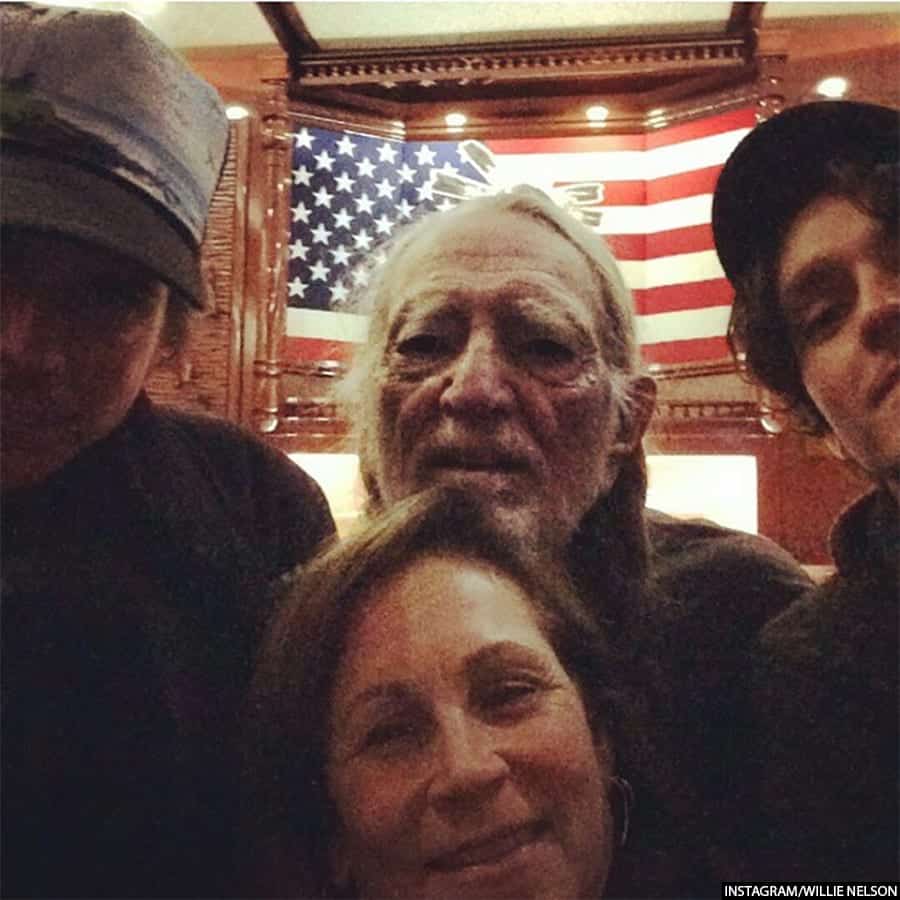 RELATED: Meet Willie Nelson's Children Including His Daughter He Only Found Out In 2012
While the story and the details of their dating life didn't make much noise, their wedding surely did. According to Nelson, he knew that he had a gift for complicating things when it came to romance but marrying Annie was not complicated at all for him. In fact, it was about the smartest thing he ever did in his life.
Willie Nelson and Annie D'Angelo tied the knot on September 16, 1991 at Nashville's St. Alouin Church in front of close family and friends. At the time, the two already had two children, Lukas Autrey, who they welcomed in 1988, and Jacob Micah, who was born two years later.
But of course, every marriage has its own storms, and the couple shared a lot of those. One of the biggest ones was Nelson's financial mess with the IRS. While for some couples, it could be the beginning of the end, Annie stood strong beside Nelson through everything and helped him out of it. She even helped him reduce his payroll and made sure his generosity would never be taken advantage of again.
Third Chapter: Three Decades of Love
In one of Nelson's interviews, he acknowledged that he was not easy to live with and he was so used to doing things his own way. But this friction that he had with his ex-wives was something he and Annie did okay.
Willie Nelson and Annie D'Angelo have definitely been through thick and thin through all those years, and they made it work. And they intend to do just that till death do they part.
---
Annie D'Angelo, Willie Nelson
---