Sam Hunt headlined this week's country news after his wife of four years, Hannah Lee Fowler, filed for divorce last February 18 with accusations of "inappropriate marital conduct." The news came in as a surprise for two things: first, the couple will be celebrating their fifth anniversary this April, and second, Fowler is revealed to be pregnant with their first-born child and is due in May. 
But just shortly after reports of Sam Hunt and wife Hannah Fowler's divorce, another news came in. The divorce complaint that was initially filed at the Davidson County court system on Friday at 2:15 p.m. was withdrawn just a few hours later and was replaced with a "Notice of Voluntary Nonsuit". 
Here's where everything got misconstrued. Various tabloid and news outlets as well as country music sites reported that the reason behind the withdrawal was that Fowler has had a change of heart and wasn't seeking the divorce at all.
But according to Whiskey Riff's investigation, this claim was untrue. 
Hannah Lee Fowler withdrew her divorce filing due to an error in the court jurisdiction wherein it was filed. She initially filed in a circuit court in Davidson County, which includes Nashville but the stated grounds for divorce arose while the couple resided in the neighboring Williamson County. So she filed to dismiss the case and then refiled her divorce complaint on the same day in the Chancery Court of Williamson County. Furthermore, the initial Davidson County paperwork obtained by Whiskey Riff was marked "In the Chancery Court for Williamson County," so there was indeed a paper trail tracing the refiling. 
As of now, the divorce complaint is pending, and the court has also issued a statutory restraining order against Sam Hunt. You can check the complete paperwork below.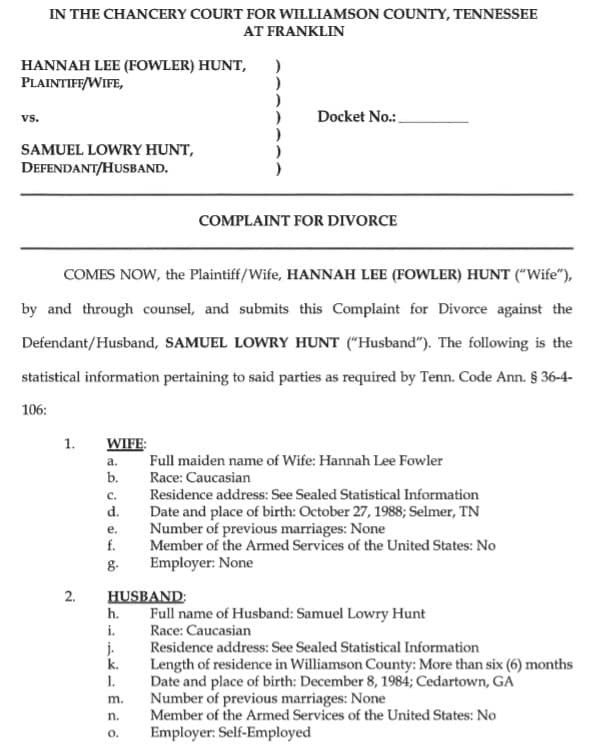 ---
Hannah Lee Fowler, Sam Hunt
---