Montero Lamar Hill, also known as Lil Nas X, was born in Lithia Springs, Georgia on April 9, 1999.
Lil Nas X was only six years old when his parents got divorced. He lived with her mother and grandmother for three years in the Bankhead Courts Housing Projects but later move in with his dad who was a gospel singer in Austell Georgia.
At age thirteen, he left his dad. Lil Nas X didn't want to be part of his dad's world and wanted none of it. Lil Nas X would, later on, use the power of the internet, especially twitter, to showcase his humor and pop culture savviness as he created memes which he posted online.
Online Sensation
Lil Nas X solidified his name through the internet. He would spend countless hours online hoping that his work might be noticed through the use of different social media platforms.
Before finally settling with twitter where he found his big break, Lil Nas X would usually hop from one social media platform to another. He started making comic videos on Facebook and would hop to Instagram then eventually found twitter where he became the "master."  He posted memes on twitter and also made short-format comedy videos for Facebook and Vine.
Though Lil Nas X's climb to stardom through the internet was rising, he was also involved in allegations of making Nicki Minaj fan accounts on twitter. These accounts were made to make tweets viral. Eventually, Twitter suspended these accounts for violating its spam policies. Lil Nas X would later call the investigation of the allegations as a "misunderstanding" and denied that he ran and made those accounts.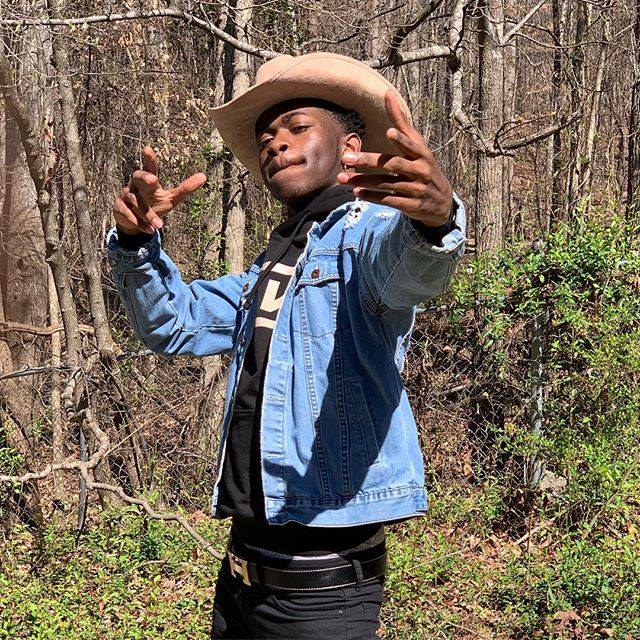 Stardom in the Music Industry
Following his rise as an online sensation, Lil Nas X also was a star in the music industry. On December 3, 2018, Nas released the country rap song titled "Old Town Road." He used a beat bought from an online store for $30.
Nas recorded the song in a humble Atlanta Studio, CinCoYo. The recording only took him less than an hour. Nas has been clever in using the power of the internet which he used for the promotion of his song.
He first introduced the song in public through the memes he created. The song would later-on be adapted by the short-form video social media, "TikTok."
Lil Nas X estimated that he made about 100 memes just to promote the song. The song would later bloom into a hit song through the #yeehaw meme challenge. This challenge featured millions of users who would dressed as wranglers or cowgirls on videos that used Nas' song for the soundtrack.
As of July 2019, the song got more than 67 million views. It also made it's way to the Billboard Hot 100 charts as a number 83 hit and would, later on, peaked as number 1. The Track was also at the number 19 of the Country Chart Song and number 36 on the Hot R&B/Hip Hop Songs.
Controversies would follow right after the release of the song when Billboard removed it from the country chart lists. The issue escalated to the grounds of racism and historical differences. But this didn't stop Lil Nas X.
Nas X made his path of stardom through different social media platforms and following his rise in the music industry, Lil Nas X soon used Spotify. It was another avalanche of success for Nas especially when he broke Drake's record for "In My Feelings," as the most-streamed music in the U.S. Lil Nas X garnered 143 million streams when the week ended on April 11 while Drake's at 116.2 million streams. As of August 2019, the song has been streamed for over a billion times on Spotify.
Several performances followed Lil Nas X's Spotify success including the release of his first EP titled "7." In July 2019, Times named him among the 25 most influential people on the internet globally. This was also followed by several awards from Country Music Association, People's Choice Awards and the record-breaking 13 weeks on top of the Billboard charts of his single "Old Time Road," the first hip hop song to ever do that.
Rainbow
On June 30, 2019, the last day of "Pride Month," Lil Nas X decided to publicly come out as gay. Throughout his teenage years, he struggled with his identity. He hoped that it was just a part of the process of him growing up. It wasn't until he was 17 years old when he, himself, acknowledged and accepted that he was gay.
Coming out in public as a gay was one of Lil Nas X's biggest crucial steps. He knew that some of his fans would leave and that he would be receiving negative comments from both the Country and Hip Hop music communities as these were known to advocate manly prowess.
Nas started using rainbow emoji on twitter and a rainbow-colored building in the album art of his first EP 7. Nas also had an interview with BBC where he also that he was gay. Following Lil Nas X's public announcement, the reactions regarding his true identity were mostly positive, but as he had foreseen, he also received some backlashes from several fans and fellow artists.
---
---