These Dolly Parton quotes are bits and pieces of what the country superstar has picked up all through the years since her humble beginnings in Tennessee. Reading them will surely make your day!
On Life
"I make a point to appreciate all the little things in my life. I go out and smell the air after a good, hard rain. These small actions help remind me that there are so many great, glorious pieces of good in the world."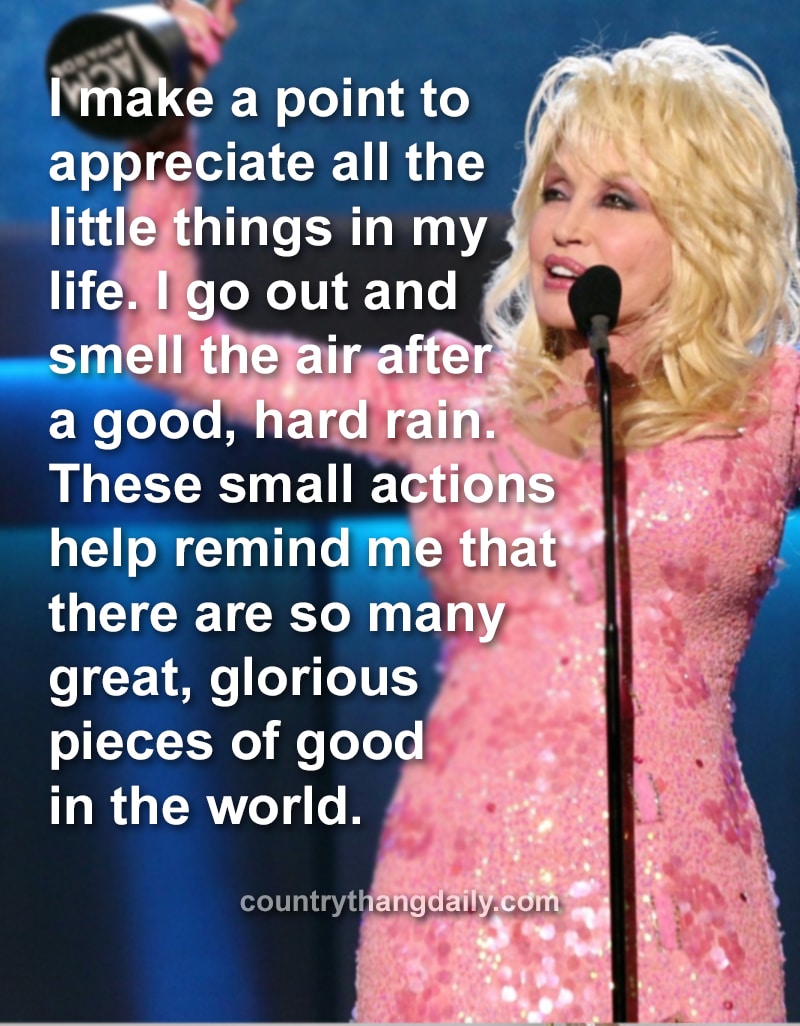 "I feel that sin and evil are the negative part of you, and I think it's like a battery: you've got to have the negative and the positive in order to be a complete person."
"Everybody's life is a soap opera. Everybody's life is a country western song, depends on who's writing it."
"Don't get so busy making a living that you forget to make a life."
On Love
"I think everyone should be free to love who they want, there's not enough love in this world, so find love where you can. And if you find it, consider yourself lucky."
RELATED: Dolly Parton and Husband Carl Thomas Dean Kicking and Screaming Into the Next 50 Years of Marriage
"I think everybody should be allowed to be who they are and to love who they love."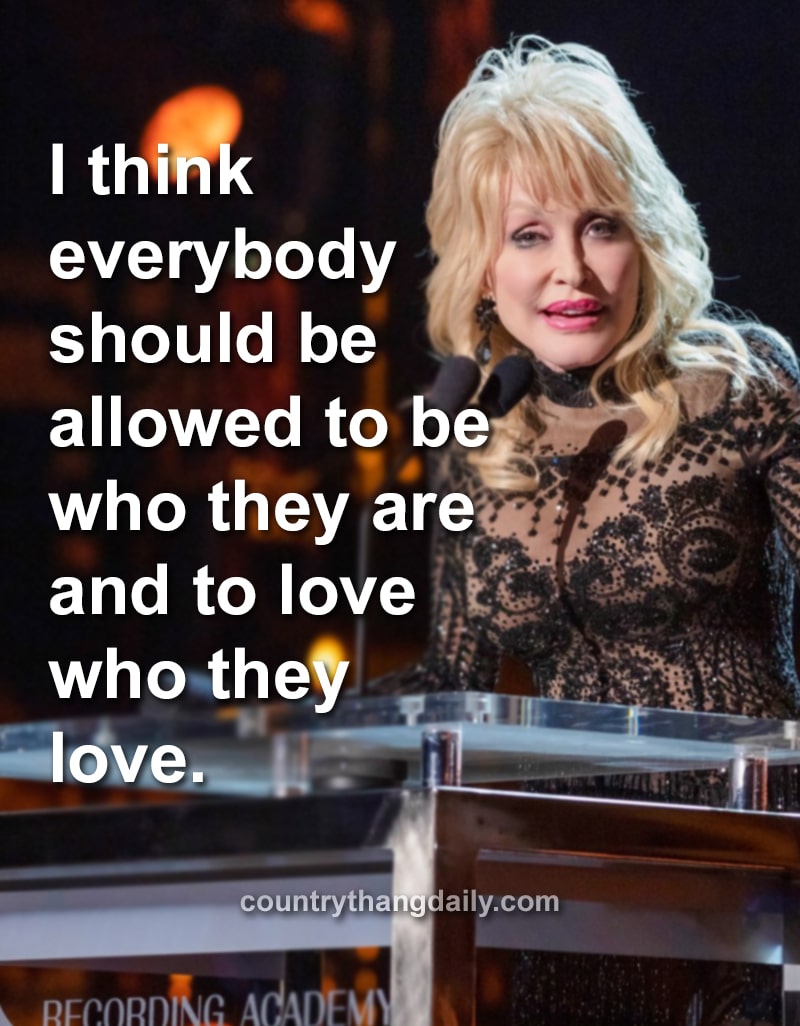 On Hardships
"I've had heartaches, headaches, toothaches, earaches, and I've had a few pains in the ass, but I've survived to tell about it."
"You'll never do a whole lot unless you're brave enough to try."
"We cannot direct the wind, but we can adjust the sails."
"Storms make trees take deeper roots."
"I have to not harden my heart, because I want to stay open to feel things. So when I hurt, I hurt all over. And when I cry, I cry real hard. And when I'm mad, I'm mad all over. I'm just a person; I like to experience whatever the feeling is and whatever I'm going through."
"The way I see it, if you want the rainbow, you gotta put up with the rain."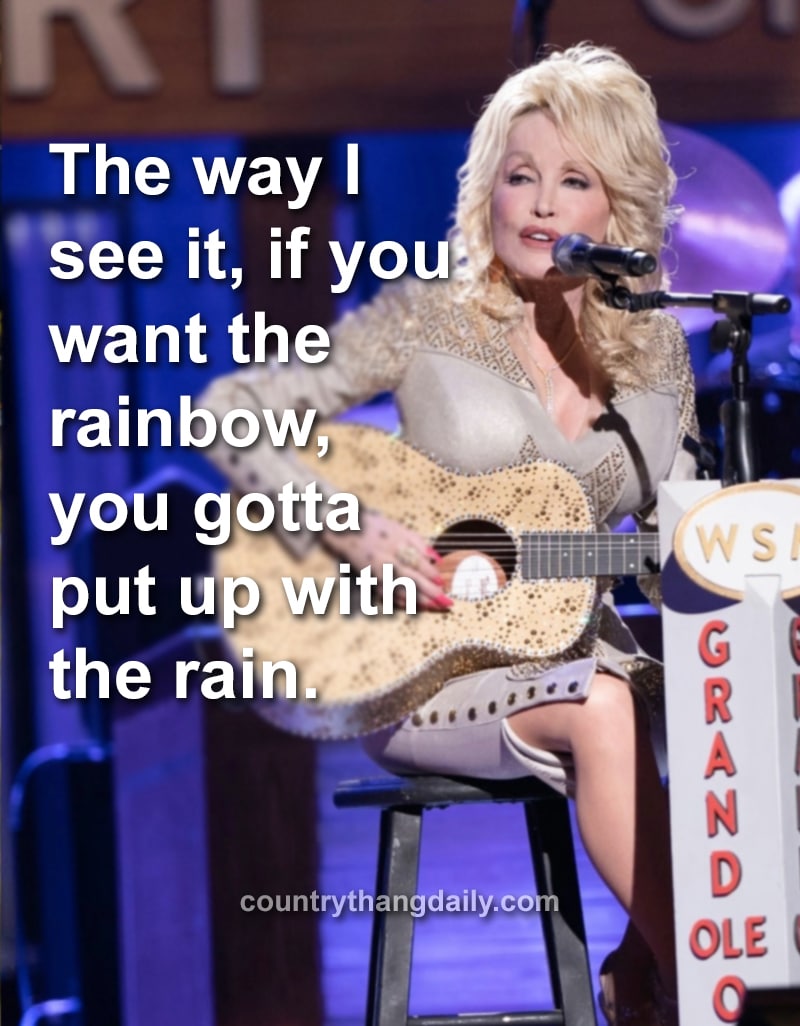 On Business Success
"You know, I look like a woman, but I think like a man. And in this world of business, that has helped me a lot. Because by the time they think that I don't know what's goin' on, I then got the money, and am gone."
"I do believe that any successful business starts from the top and works its way down."
RELATED: Dolly Parton's Net Worth and How She Generously Put It to Good Use
"You gotta keep trying to find your niche and trying to fit into whatever slot that's left for you or to make one of your own."
"I'm not going to limit myself just because people won't accept the fact that I can do something else."
On Being A Woman
"I still believe that women should get paid equal and should be treated with respect. I'm all about that. I don't get out and have to preach it or march in the streets, I write about it."
On Style
"The only way I'd be caught without make-up is if my radio fell in the bathtub while I was taking a bath and electrocuted me and I was in between make-up at home. I hope my husband would slap a little lipstick on me before he took me to the morgue."
"I make jokes about it, but it's the truth that I kind of patterned my look after the town tramp. I didn't know what she was, just this woman who was blonde and piled her hair up, wore high heels and tight skirts, and, boy, she was the prettiest thing I'd ever seen. Momma used to say, 'Aw, she's just trash,' and I thought, 'That's what I want to be when I grow up. Trash.'"
"A lot of people have said I'd have probably done better in my career if I hadn't looked so cheap and gaudy. But I dress to be comfortable for me, and you shouldn't be blamed because you want to look pretty."
On Dieting
"I tried every diet in the book. I tried some that weren't in the book. I tried eating the book. It tasted better than most of the diets."
On Work
"After you reach a certain age, they think you're over. Well, I will never be over. I'll be making records if I have to sell them out of the trunk of my car. I've done that in my past, and I'd do it again."
"If your actions create a legacy that inspires others to dream more, learn more, do more and become more, then you are an excellent leader."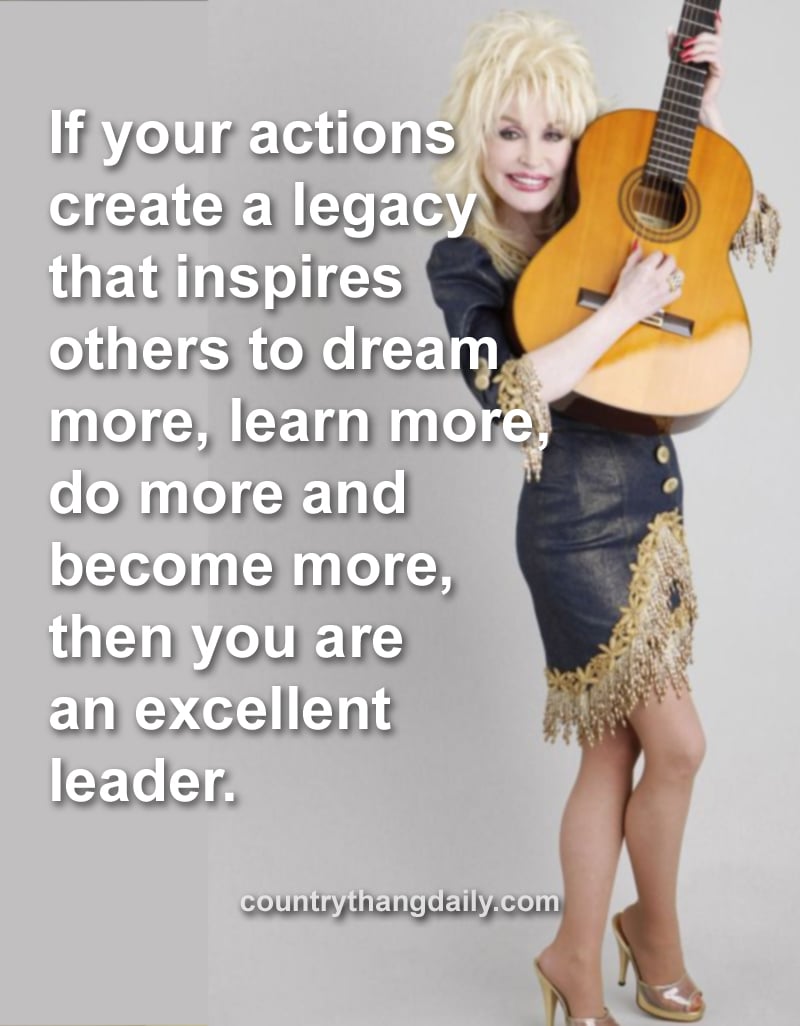 Indeed, these Dolly Parton quotes prove the country star knows how to keep things in perspective.
---
---