Blake Shelton's first wife Kaynette Williams, stayed by the country crooner's side through all the difficult early days of his career. Williams, who was born Kaynette Francis Gern on February 20, 1973, in Oklahoma City, attended the same high school with Shelton – where their love story began.
The two worked together to help advance Shelton's career. She was not just only his long-time sweetheart, but she also acted as his road manager. And finally, in the early 2000s, Shelton decided that Williams was the one.
"I knew Kaynette was the one," Shelton once told Country Weekly. "Just because I can't explain it I can't say it's because we get along or because of the way she looks. It's just something I feel – you know what I mean? It's nothing more than just knowing you're right."
Shelton popped the question in a quite unconventional yet very country fashion way.
"It was early one morning back in December, and we ended up spending the day with some friends and kind of having a party all day and had a good time," the country singer revealed. "I got in from hunting that morning, and asked her to marry me, and we went back out hunting."
And of course, Williams was quick to say yes.
On November 17, 2003, Kaynette Williams and Blake Shelton tied the knot in a small ceremony in Gatlinburg, Tennessee. Williams looked gorgeous on her Demetrios wedding gown while Shelton was dashing in his Wranglers, boots, and cowboy hat. Of course, the night did not end without Shelton serenading his bride, and he chose Conway Twitty's "Julia" for that.
Blake Shelton and Kaynette Williams' Gatlinburg Wedding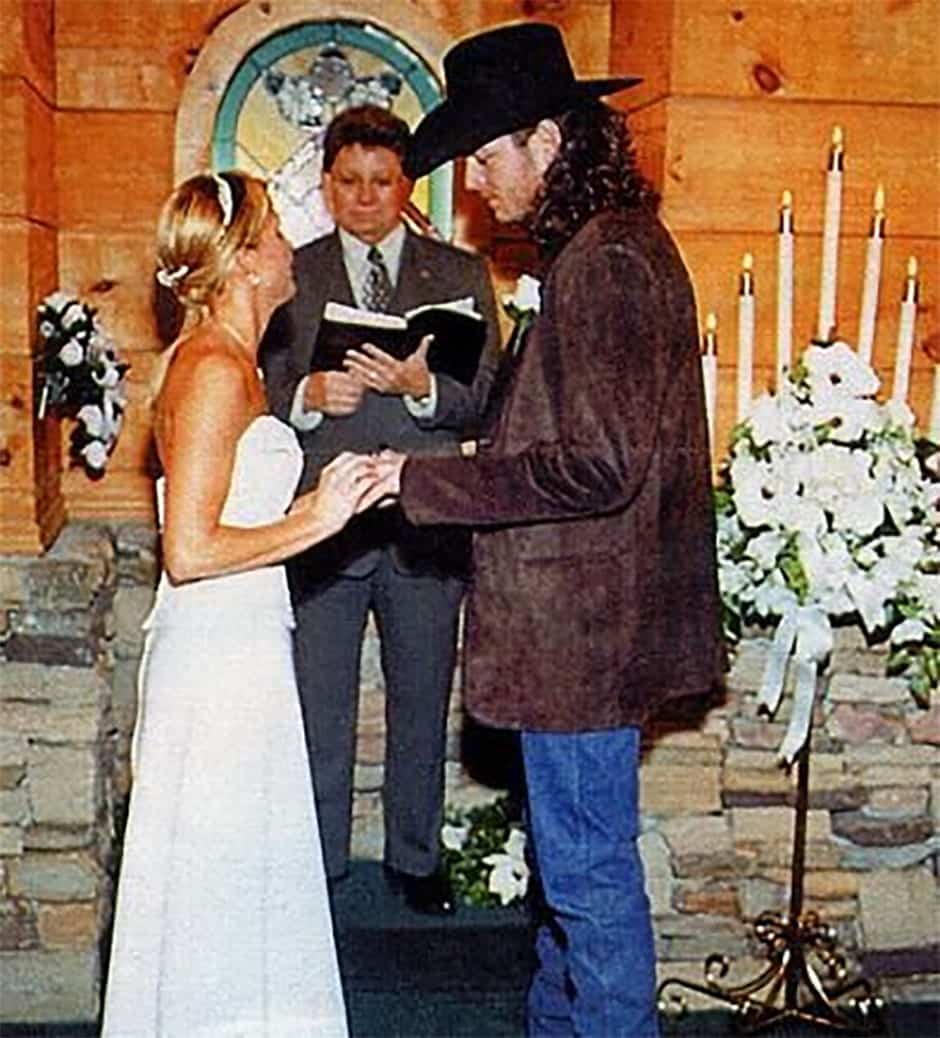 Sadly, it was a marriage that only lasted three years.
Kaynette Williams Marriage With Blake Shelton Ended Up In Law Court
Three years after Kaynette Williams and Blake Shelton said their vows, they decided to call it quits in a law court. The country fans were devastated, but the divorce proceedings went quietly and without troubles.
In her 2006 divorce proceedings, Kaynette Williams accused the country superstar of being "guilty of inappropriate marital conduct." This accusation likely bloomed from his alleged infidelity with fellow country star Miranda Lambert.
Shelton lost his heart to Lambert while they were singing a duet during the CMT 100 Greatest Duets special in September 2005. He shared about that bizarre incident of falling for a lady when he was still married in one interview, Shelton said, "I've never had that kind of experience with anybody," he said at the time. "I was a married guy, you know? Looking back on that, I was falling in love with her, right there on stage."
But that doesn't mean Shelton didn't went through a difficult time during the divorce. He said that his divorce with Kaynette Williams was the toughest thing he went through and put it up with his brother's tragic death. He called the divorce "a tough, tough call to make."
The breakup inspired much of his "Pure BS" album in 2007; this includes the highest-charting song, "Don't Make Me."
"I was making this record completely right through the divorce," Shelton admitted. "I went through days where I knew I wanted to get a divorce, and then the next day I'd wake up and wouldn't want to get a divorce. And I'd wonder, 'What the hell am I doing? Why am I doing this?' I was dumping all those emotions I was going through and all that pain into this album."
Shelton thought he wasn't ready to be a husband. However, he began openly dating Lambert immediately after his separation from his first wife.
Kaynette Williams Chose to Move On
After the divorce, Kaynette Williams left Nashville and moved back to her home state of Oklahoma. But in a strange twist of fate, Shelton and Lambert moved to their new home in the state as well.
"After Blake and I split up, I moved from Tennessee back to Oklahoma. But then Blake and Miranda moved back there to a neighboring town, and it just felt like Oklahoma wasn't big enough for all of us," Williams opened up to the National Enquirer in 2011.
So she packed her things and moved to Kansas for a fresh start. She also sold many of her belongings, including her size 6 Demetrios wedding gown. The unique piece of country music memorabilia was found in eBay with a starting bid placed at $700, but there were no bids made.
Kaynette Williams is now in the happiest state of her life, living a quiet life in Great Bend, Kansas. She is working as a math facilitator at an elementary school, and she's an award-winning in her field. She has also re-married to rodeo champion and world record holder for steer roping, Cody Joe Scheck.
After all that she's been through, Kaynette Williams deserves all the happiness in the world.
---
Blake Shelton, Kaynette Williams
---