Many claimed that this Statler Brothers track gives a depressing vibe when you listen to its message. Well, they are right. The song talks about a person who was left behind by the one he loved most. The shock was too much that it even made the person catatonic and unresponsive.
The title of the track was cleverly written, as it shows what the person was doing when he was left broken-hearted.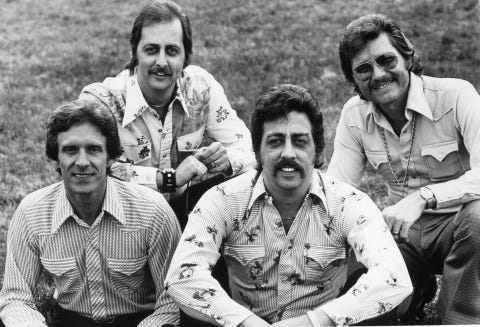 Knowing The Statler Brothers
The Statler Brothers are not really blood-related. They just found each other through their Sunday service where they sing music for their people. They were first a trio, and then they added their younger brother as a bass vocalist, Don Reid. He then played as their lead vocal reigns and that was the start of their group. Since they were still playing at the church, the group performed gospel music.
They got their first break when they headlined for Johnny Cash. The country legend loved the group because of their beautiful melody, so they went on a tour with him for more than 8 years. They got signed with a recording studio and their classic hit "Flowers on the Wall" was introduced to the public.
Lyrics Breakdown to "Flowers on the Wall"
The track was a hit because it was what traditional country music was all about back in the days. The emotions of the song are genuine and it delivers a punch in the gut. The trope for the track was overused to the point where, even now, we can hear this kind of love story. A man gave his everything, but he still got his heart broken. The sad part of the song is that he can't seem to move on or to even function as a normal human being.
The person was left catatonic probably because of the million thoughts running through his head. Songs like these easily get the attention of the listeners, since they can relate to it.
Listen to the song here:
For your daily dose of country music stories, check our official Facebook page: Country Daily  
---
---