Before Brad Paisley became one of the biggest stars in country music, racking up three Grammys, two American Music Awards, and 14 ACM Awards, he was just 19-year-old aspiring musician in a tiny Glen Dale, West Virginia. He was also a regular guy smitten by a beautiful actress named Kimberly Williams, who is now his wife for almost two decades?
So how did Brad Paisley end up marrying an actress? Let's get to know their beautiful love story and a lot more about Kimberly Williams-Paisley.
How Did Their Love Story Began?
It all started way back in 1991 when Brad spent his first date with a local girl watching Father of the Bride. While enjoying the movie, he realized he was more intrigued by the girl onscreen than the one sitting next to him. It was Kimberly Williams who starred in the movie with Steve Martin.
When Father of the Bride II was released in 1995, things have already turned sour for Brad and his girlfriend. She dumped him for his best friend. Of course, Brad felt miserable about the situation he was in. While he was moping, he went to see the sequel alone. Seeing Kimberly again cheered him up right away.
Five years later, Brad's career went full swing. The Academy of Country Music named him as Top Male Vocalist of the Year. His hit album, Part II, featured several songs he had written about his old girlfriend.
"It even had a song about going to Father of the Bride," Brad said. So when the time came they needed to cast someone for his music video, the "I'm Gonna Miss Her" singer thought of the girl in the movie. "It felt natural to ask her to be in it. Even though I didn't know if she was married, divorced, or just out of rehab."
Apparently, this led to daily phone calls and several dates for the two. Finally, one starry evening, Brad walked his celebrity crush out to the end of the Venice Beach pier. He told her about how they were meant to be in each other's lives, and Kimberly Williams couldn't agree more.
Six months later, on that same pier, Brad surprised Kimberly with an engagement ring. "He proposed right in front of the public toilets," Kimberly revealed as she laughed.
Welcome to the Future With Mr. And Mrs. Paisley
On March 15, 2003, she officially became Kimberly Williams-Paisley as the happy couple got hitched at the Stauffer Chapel at Pepperdine University in Malibu, California. The couple moved together to Nashville, Tennessee, and now have two sons — 13-year-old William Huckleberry (aka "Huck"), and 11-year-old Jasper Warren.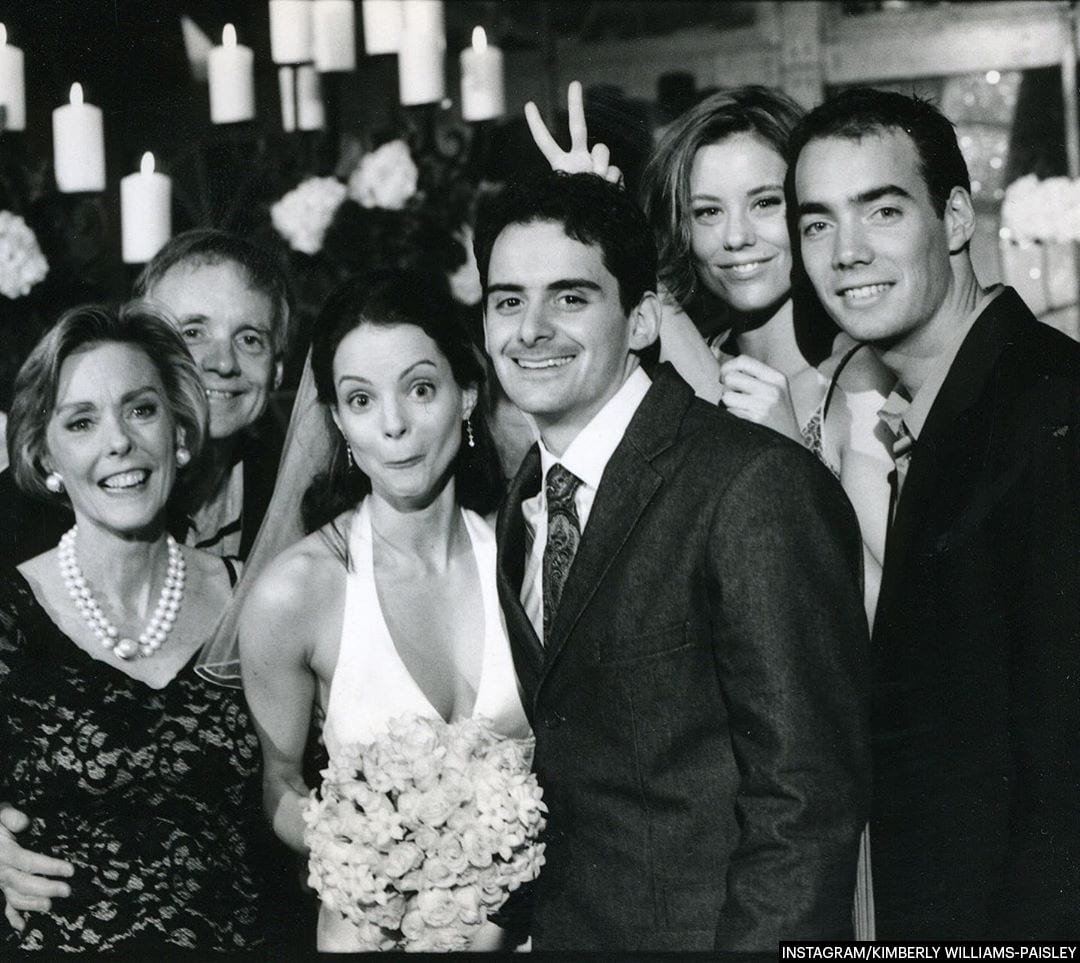 Their sons, according to Brad Paisley's spouse, are amazing kids to be around.
"We love hanging out with them," the actress said. She revealed that when her eldest son started reading, he read like crazy. Comic books, Calvin and Hobbes, Harry Potter, are just a few of his favorites.
Now that makes us wonder if there are future country music stars at the Paisley home?
"There's potential for sure," she said. "We don't want to push them in either direction, but I wouldn't be surprised if that's where they ended up."
Indeed, even though the couple took a while to meet, it was pure magic when they did. And now, Bradley says they are as solid as ever. On March 15, 2015, the couple celebrated their 12th wedding anniversary with a special event — a vow-renewal celebration!
"It was a surprise, I didn't know we were doing it," Brad's wife Kimberly Williams-Paisley once told Us Weekly. The country star arranged all of the details for the sweet renewal ceremony, while Kimberly's best friend bought a dress for her to wear during the memorable occasion.
"We did a really, really campy wedding vow renewal ceremony. It was awesome. We had a traditional wedding march … Our processional walk," she added. "It was very casual and very campy and silly. It was perfect," she explains.
Facts About Kimberly Williams-Paisley
1. She's a true New Yorker
Kimberly Williams was born and raised in Rye, New York, on September 14, 1971. Her father, Gurney Williams, was a journalist. Her sister, Ashley William, is also an actress and starred on the hit series How I Met Your Mother. Her brother, Jay Williams, has been in show business since the age of 13 too.
2. She wrote a book to open up about a very personal issue.
Kimberly Williams released her book, Where the Light Gets In, in 2016. The actress shared a glimpse of what life has been like since her mother, Linda, was diagnosed with a rare form of dementia called primary progressive aphasia.
The complete story of her mother's illness, including the hardships, the memories, the details of their relationship, the strong bond that brought her family closer can all be found in the book.
"I hope that the whole story – and what we learned from its challenges, mistakes, moments of joy and unexpected humor – will help many more people, and promote further awareness of a heartbreaking epidemic," Kimberly said.
It was in Brad and Kimberly's wedding ceremony in 2003 when the family noticed something was wrong with their mother. She was "acting very irrationally" and was "very emotional." She was even struggling to read a passage.
"[She] really wanted to be involved in the ceremony at the last minute," Kimberly said. "So, we gave her something to read, and she stood up in front of the congregation and wasn't able to get through the reading, which was very atypical of my mom."
3. She didn't fall for Brad's swoon-worthy voice — but rather, his wit.
Brad Paisley revealed that his sense of humor is the only reason he won over his wife.
"The only reason I won her over, I think, was my sense of humor," Paisley told People. Though the singer got to admit that Kimberly Williams is "a lot tougher to make laugh."
4. She knew zero about country music.
Before Kimberly Williams met Brad Paisley, she knew nothing about country music. In fact, she thought that at Nashville's Grand Ole Opry, they sang opera. 
Guess Kimberly Williams-Paisley learned one lesson or two from her husband now.
---
Brad Paisley, Kimberly Williams
---