I chose this song for my meditation.  There are many covers available online for this tune, but I put my hat on this one.
"Walk with Me, Lord" by Michael Card
"Because our Lord is not distant from us.
It's not all the time that we're on high spiritually. Our direction becomes obscure before our eyes. Even stuff we do for him become more of a liability than joy. Hence, we need some re-charging of our spiritual batteries in Christ. And that's okay. Anytime we're feeling depleted, we can pause and rest. Just don't stop on your faith journey. Once filled, you'll be singing again, "Let's go, Lord. Walk with Me."
"Our never tiring companion.

Where human companionship fails, his continues to fill. Besides, we'll never truly grasp what it's like to walk with Jesus unless we're on our own. The idea sounds good, but do we really understand what that means? Will he remain invisible, or will from time to time, show up? Will he be always silent, or will he also speak? If so, what will his voice sound like? Will he listen to everything we say, or there'll be a time he'll shut us off?
I have no concrete answers for those. All I know is, when you have no one but Jesus to listen, that's a good time to learn what his voice sounds like.
"Walking 'with' is walking 'like' Jesus
Ever seen a father and son walking on snow with the lad following behind and stepping on his dad's foot markings? I just described what walking with Jesus looks like. We follow where he goes and mimics how he walks. And how does he walk? In truth and in righteousness. Bringing peace and always reflecting the heart of the Father. Let's strive for that.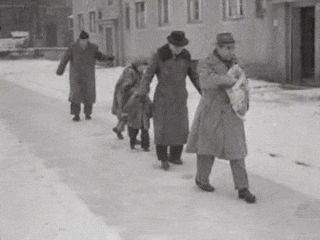 ---
gospel, Life, Michael Card, Testimonial
---