Loretta Lynn is one of the biggest stars in country music. Her hit singles and albums received numerous major awards and honors. With this, she is named as the most awarded female country artist and the only female who received an ACM Artist of the Decade. Now she continues to tour, appear at the Grand Ole Opry, and release new singles and albums.
Lynn is known for the continued strength and quality of her voice, as well as her down to earth quick wit and humor. Today, let us look back at one of her greatest classic hits, "Fist City."
"Fist City"
It is a ballad song written and performed by Loretta Lynn. Her song was released on January 1968 as a single from her 12th album, Fist City. Upon the release of the song, it peaked at number 1 on the US Billboard Hot Country Singles chart and Canadian RPM Country Tracks chart.
One of the music critics told that "First City" is the perfect title of the song. He justified it by stating,
"Lynn grappled with the most important social issues facing our nation, but she did not hesitate to beat a bitch down when the situation called for it. In song and life, Lynn could be a fierce lioness when it came to fighting for her man. As chronicled in Coal Miner's Daughter, she had her hands full trying to tame a hard-drinking womanizer who felt threatened by his wife's incredible success. On "Fist City," for example, Lynn deliciously taunts a silly little thing whose interest in Lynn's husband is destined to earn her a one-way invitation to a beatdown."
About the Song
Lynn's song "Fist City" talks about her real-life experience and encounter with another woman who wants to take her man away from her. In this song, Lynn warns the other woman that if she keeps persuading her man, she will take her to "Fist City." However, the woman continued so Loretta gave her a beating.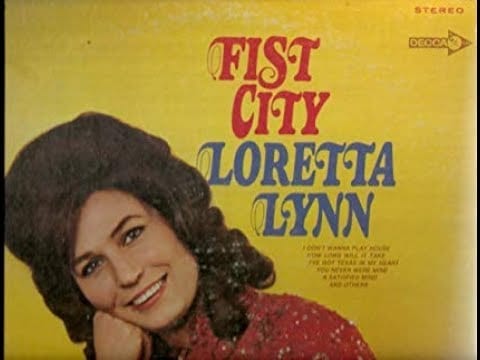 Talking about where the Fist City is located, its exact location is the woman's front porch where Loretta confronted her. Well, Lynn shows that she is the woman whom you cannot mess with. Only a brave woman can do that, don't you agree?
Lynn also took her husband to Fist City. She said,
"I had four babies, one after the other. He walked by and pulled one of my pin curlers, and it hurt – he was drinking a little bit. I turned around to hit him on the shoulder but I ended up hitting him in the mouth. Teeth flew everywhere."
With this, her husband walked away and turned violent. He hit Lynn but she hit him twice and said,
"He got the wrong woman to fight with."
Listen to Loretta Lynn's "Fist City" below:
---
---