"In The Sweet By And By" is a collaboration between two friends Sanford Filmore Bennet and Joseph P. Webster. It became popular in the 19th century and became a part of hymnals.
The song has been covered by numerous artists like Elvis Presley, Louis Armstrong, Johnny Cash, Glen Campbell, Dolly Parton, Willie Nelson, Loretta Lynn, Kenny Rogers, Allan Jackson, Randy Travis and many more.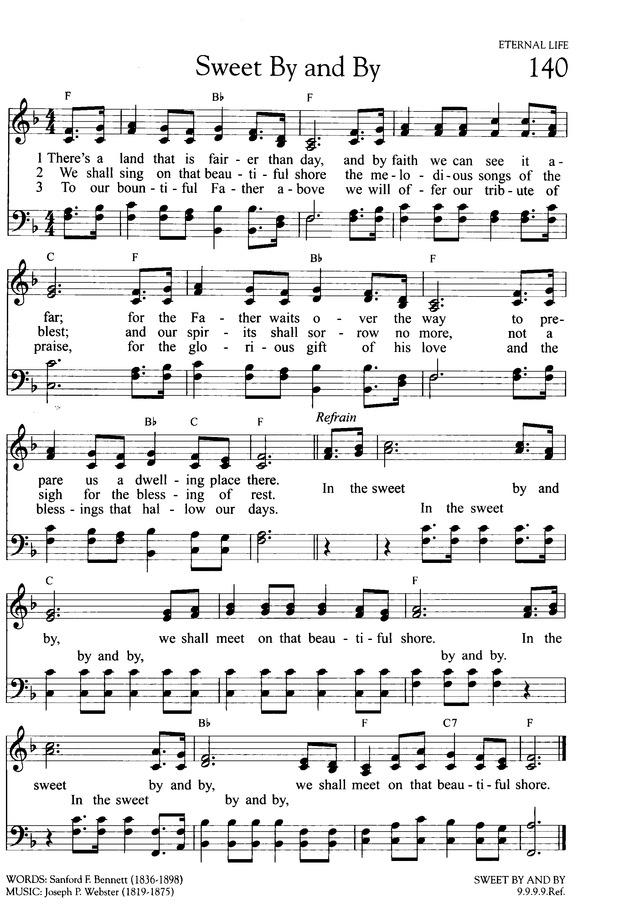 "In The Sweet By And By" And Heaven
The song reminds us not to lose hope because God promised a place for us in heaven.
There's a land that is fairer than day
And by faith, we can see it a-far
For the Father waits over the way
To prepare us a dwelling place there
As Christians, we find comfort in that promise. We are assured that no matter what challenge life hurls at us, it won't last forever. We should look forward to what is ahead of us in heaven.
The promised land is an active place though described as an eternal rest for believers.
Here are two of the many things that we will do in heaven as mentioned in the song.
1. We will be singing.
We shall sing on that beautiful shore
The melodious songs of the blessed;
And our spirits shall sorrow no more,
Not a sigh for the blessing of rest.
It will never be a boring place in heaven. We will never get tired of exalting his name. We will be enabled by our faith and the power of the holy spirit.
2. We will be praising God for his glorious gift.
To our bountiful Father above,
We will offer our tribute of praise
For the glorious gift of His love
And the blessings that hallow our days.
If the Father wants people to worship Him here on earth, it will not change when we get to Heaven. His mighty works did not come to an end when Jesus died on the cross. He is continuously performing miracles in our lives and even in the afterlife. When we get to heaven, we will be praising him for the gift he gave us, his love and for something he hasn't received praise yet.
Here's the cover of Randy Travis:
---
---