On April 1, 1984, George Jones and Johnny Cash teamed up to sing Cash's 1959 prison themed song, "I Got Stripes."
"I Got Stripes" was the perfect song for a Johnny Cash and George Jones collab as both had a record to show about what life's like behind bars.
Cash, who became the country music legend that he is, was a well-known supporter of prisoners. He recorded two of his legendary albums inside two of the most notorious institutions in California: Folsom, and San Quentin.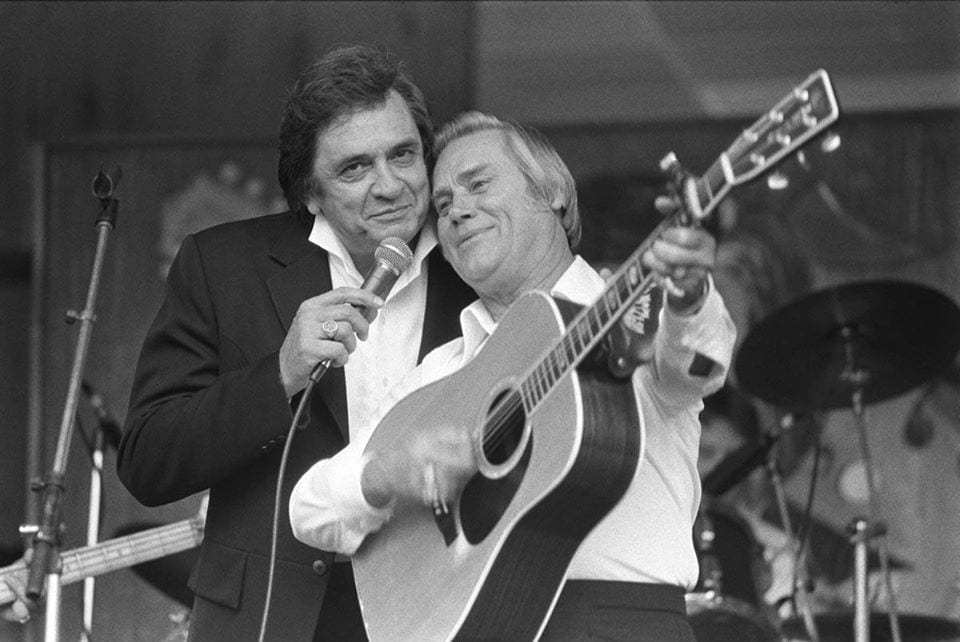 As for Jones, he'd been in bondage with alcohol and drug abuse for a long time. He started missing his shows which earned him the nickname "No Show Jones." Later in his life, Jones grew tired from all his addictions and made efforts to sober up. Part of that was to focus his energy on business. He launched a dog food brand, sausage brands, and "White Lightning" moonshine which was named after one of his greatest hits.
Jones also owned several country-music nightclubs and music parks. In 1971, after acquiring the George Jones Rhythm Ranch in Vidor Texas, Jones and his then-wife Tammy Wynette opened the Old Plantation Country Music Park in Lakeland Florida. He was also one of the brains behind the Dothan, Alabama entertainment resort called, Country Crossing. It opened in 2010 with the "Possum Holler Bed & Breakfast" as their marketing highlight.
This leads us to the opening of the Jones Country Music Park in Colmesneil Texas back on April 1, 1984. One of the event's highlights was his duet with Cash of "I Got Stripes." The recorded version, however, was not released until 2002. Later on, the record was added into Cash's 1979 LP, Silver as a bonus track.
"I Got Stripes"
The song was originally published by Lead Belly. Lead Belly is an American folk and blues singer, musician and songwriter who was known for his strong vocals and his skill in playing the 12 string guitar.
"I Got Stripes," like any other old song, contained themes that reflect the culture, customs, and viewpoints of the specific period from when it was released. While Lead Belly did a great job in the original, Johnny Cash did some reworking and finally released the song under his Folsom Prison album.
Johnny Cash's reputation to unequivocally support prisoners and his live shows and recordings in prisons lifted "I Got Stripes" to new heights. From a reflection song about race, Cash turned it into a prison life inspired tale.
Chart Performance
Johnny Cash first recorded "I Got Stripes" on March 12, 1959. The song was released in June along with "Five Feet High and Rising." Cash did the revisions with Charlie Williams, a DJ from Los Angeles. They also borrowed from "On a Monday," another song by Lead Belly.

Upon release, "I Got Stripes" peaked at number 4 on the Billboard Hot Country Songs and charted at number 43 on Billboard Hot 100.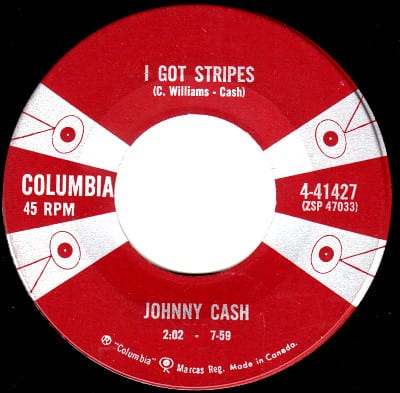 Best Covers
Like with the other hit songs which Cash produced in his career, " I Got Stripes" was also a favorite by cover artists. Here are some of our personal picks.
1969 – Johnny Doe
1969- Dick Nolan
1974- Johnny Cassidy & The Everglades
2016 – Tribute show to Johnny Cash
---
George Jones, Johnny Cash
---